Now I lay me down to sleep...
Buzet, Croatia
...in a car park by a busy A road.
No, seriously. And it's not as bad as you think.
After the turbo debacle last month in Arco where we had to fork out for emergency campsite accommodation while the van was in the workshop, we were keen to offset the extra expenditure by staying a few nights on our own (once we got the van back) and slightly more off grid.
We began researching what the French call 'aires' ('area attrezzata' in Italian, or 'stellplatz' in German). These are designated parking areas for camper vans and motorhomes, and they can vary wildly in terms of quality, from just a basic gravel lay-by to a fully serviced site with toilets, hot showers, dishwashing and laundry facilities, and even wifi. Sometimes they are free; other times a 24-hour stint in one can cost as much as a night in a campsite.
We knew these places existed before we left on the trip but it wasn't until circumstances forced us to be more frugal that we were able to fully appreciate their usefulness.
After several hours poring over motorhome travel websites and niche camper van blogs (by god, there are a lot. In every language. And here I am adding to the noise but I hope this is useful or at least entertaining to some of you), we realised that with a bit of planning and research we could quite easily still do what we wanted to do on this trip, just more cheaply and with greater autonomy.
Upon leaving Arco we decided that we would spend at least two or three nights at an 'area attrezzata' to let the bank balance recover a bit while we made our way to the Dolomites.
Our first stop was Bolzano. We plugged three options into TomTom, and drove around for a couple of hours inspecting first one site, then another. It wasn't looking good.
The first spot was right off the autostrada and quite expensive, so we struck it off the list pretty quickly.
Option 2 was basically a car park next to the train station, albeit closer to the centre of town. Crucially, it was free. A quick survey of the area revealed three older motorhomes with Italian plates, some graffiti near the lift to the platforms, and not much else. Now this would probably have been OK had it not been for a group of people camped out on mattresses in the open air under the station stairwell, cooking something over a fire, and drying their laundry (including bras and underwear) on a railing.
"Hmm. Not quite sure how I feel about this spot."
"Yeah, me neither."
Except we knew EXACTLY how we felt about it: like we needed to get the hell out of there. Immediately. Before we got gassed to death in our sleep and our passports were stolen and sold on the black market.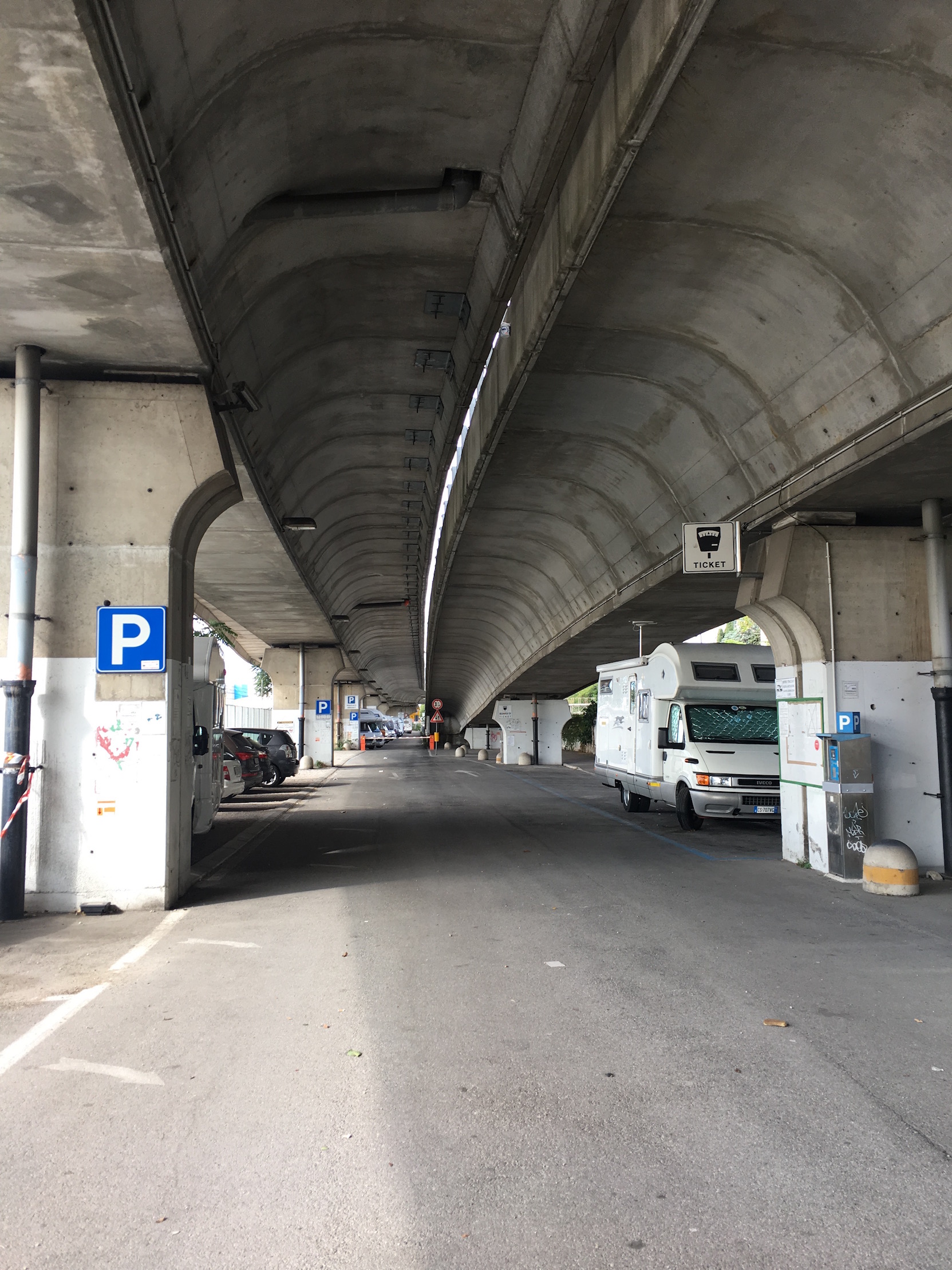 This is the Trieste area attrezzata. Not dissimilar in ambience to Bolzano option 2, where we DIDN'T stay
As the light faded and evening set in, we pinned our hopes on the last option, which was a small area attrezzata opposite a cemetery and right next to a busy road. Bizarrely, it turned out to be the best spot.
Not only was there a full camper service available (i.e. fresh water tap, grey water drain, and chemical toilet disposal), parking from 19:00 to 08:00 was completely free, and then only EUR 1.00 per hour afterwards. And the noise from the road wasn't actually that bad. If it was good enough for the older German couple and the young Italian family also there, it was good enough for us.
The next morning, giddy with our new-found independence, we did a big food shop at the supermarket nearby and set off for Ortisei.
The following night we stayed at the top of Passo Gardena (2,187m), where there was no camper service and no facilities, but instead an incredible view. We duly paid the EUR 5.00 overnight fee to the man in the white hat who came around every morning to police his gravel patch, moved the van to a free lay-by, and spent the rest of the day climbing at the local crag.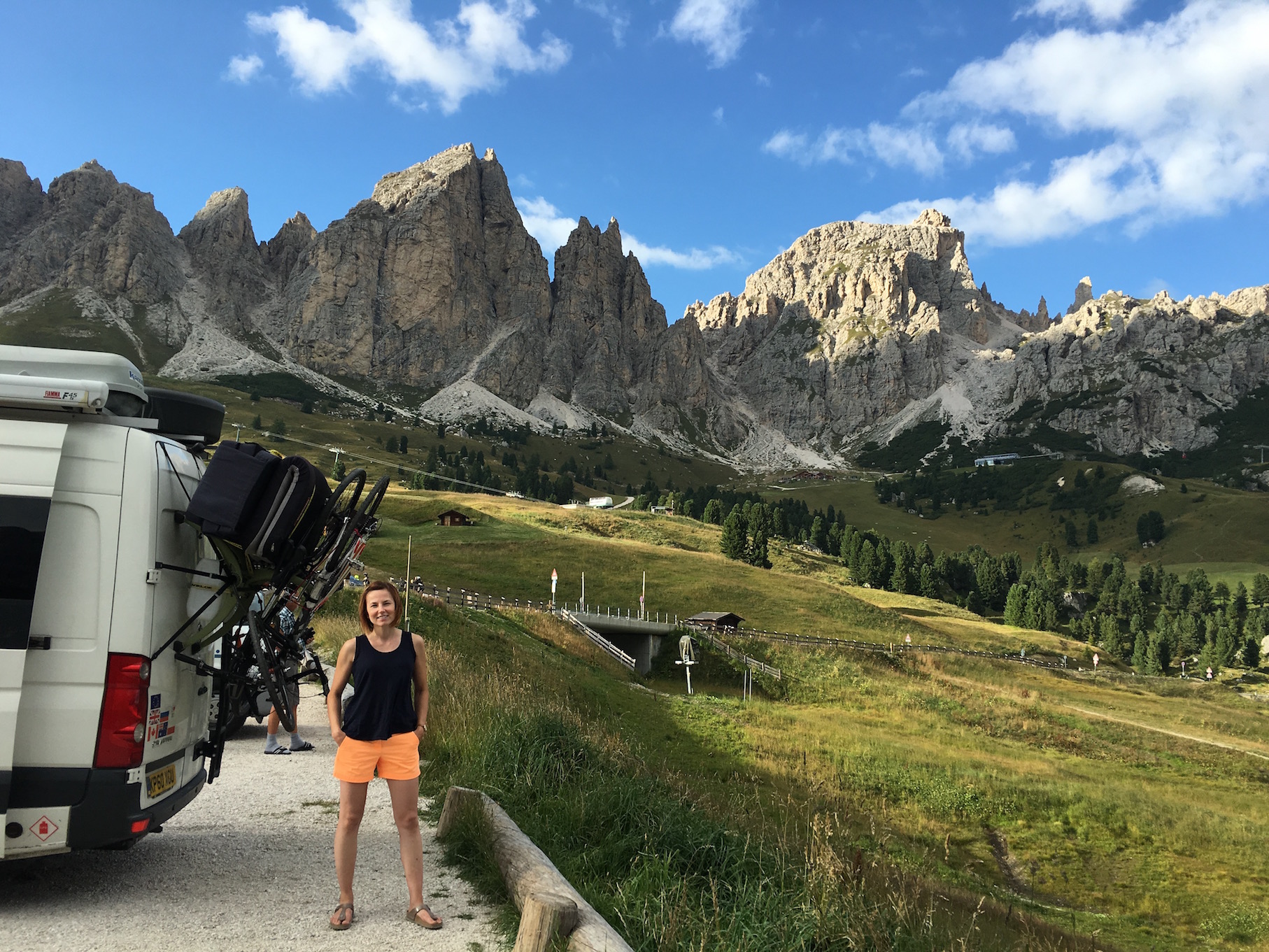 Passo Gardena camper and car park
The next day, we found Parking Odlina in La Villa, Badia - arguably the holy grail of camper car parks in Western Europe.
For EUR 22.00 per 24 hours (more in high season) you get a full camper service, electric hook up, brand new and modern toilet and shower facilities, dishwashing and laundry facilities, and excellent wifi. Oh, and also an amazing view.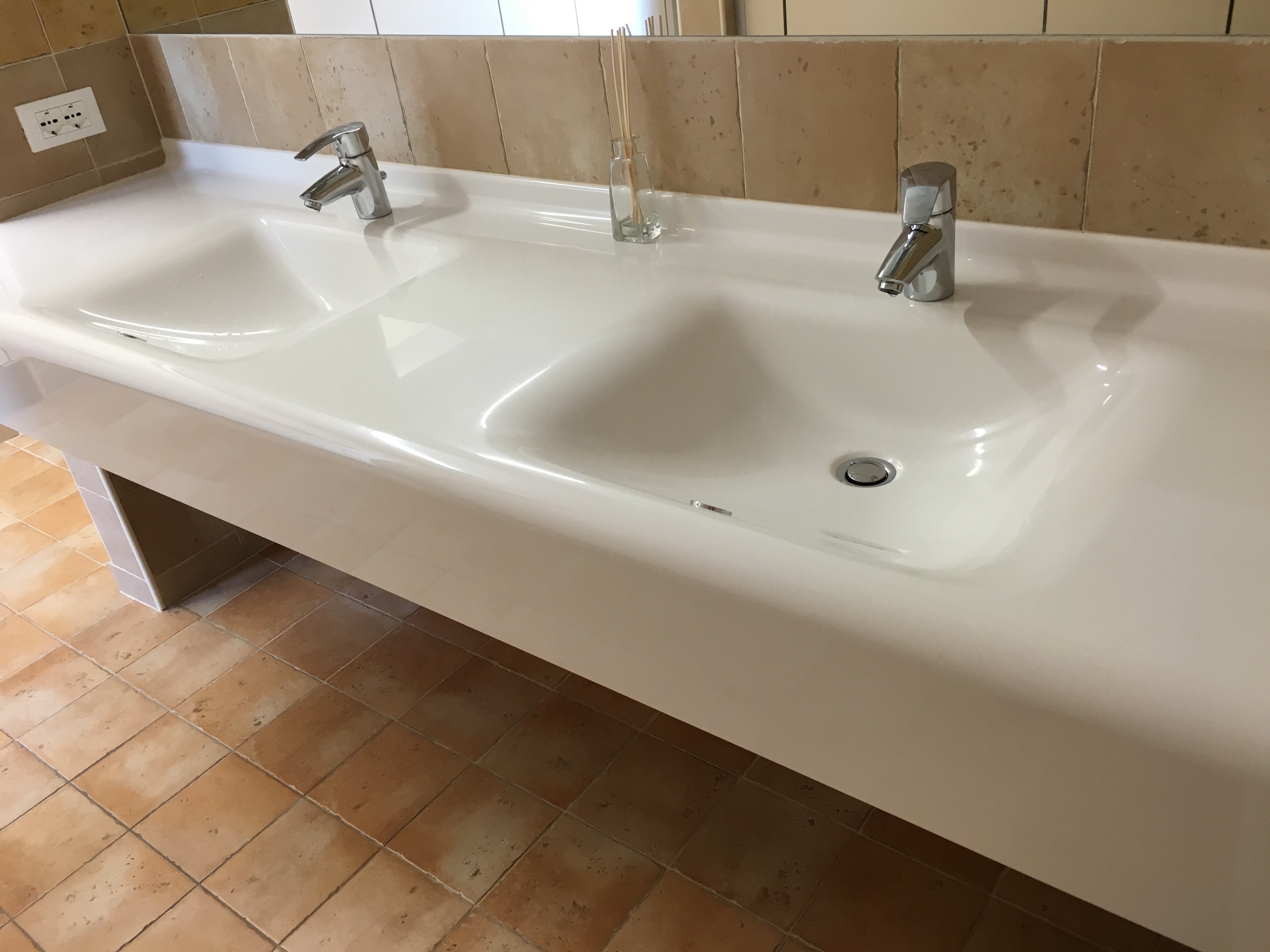 Parking Odlina loo. Nicer than home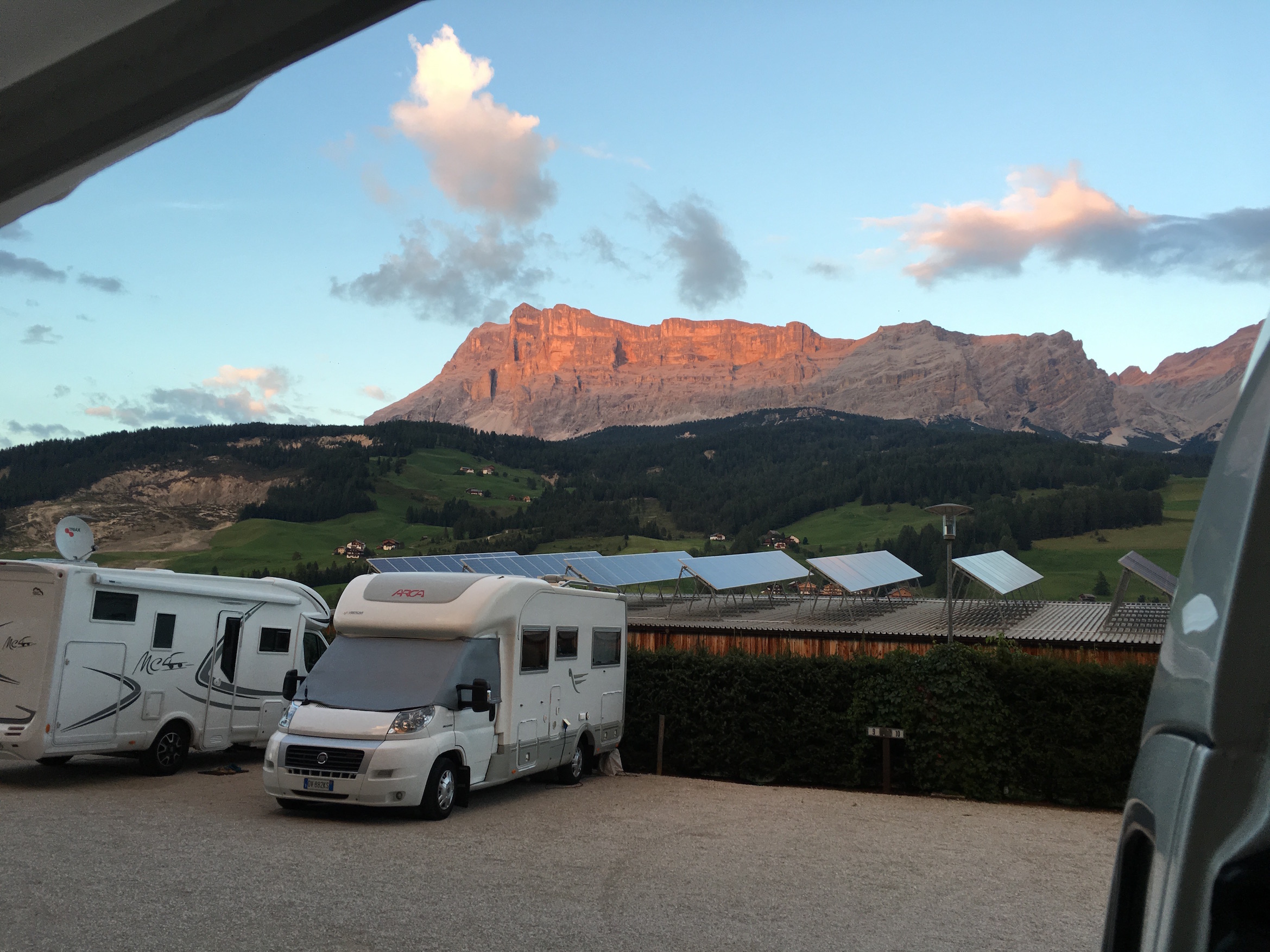 Parking Odlina view. Also nicer than home
After that, our travels took on a new rhythm: three or four independent nights somewhere (ideally for free) followed by one night/day at a campsite or aire to service the van, have a proper shower, do some laundry if necessary, and catch up on life admin.
Other places we've parked/slept:
Passo Falzarego (2,105m)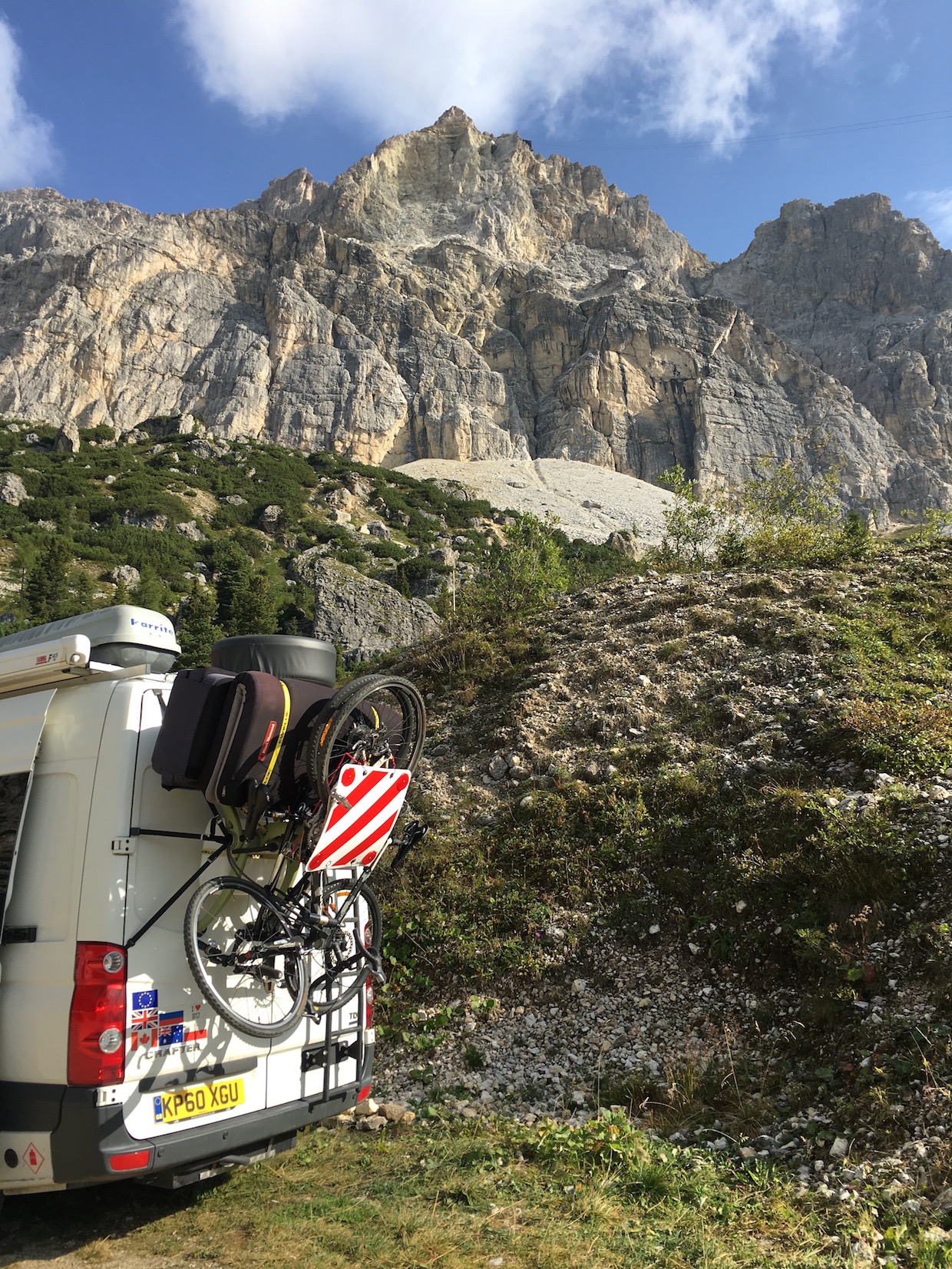 No facilities but parking was free and you could use the gift shop toilet for EUR 1.00
Piz Sorega chairlift car park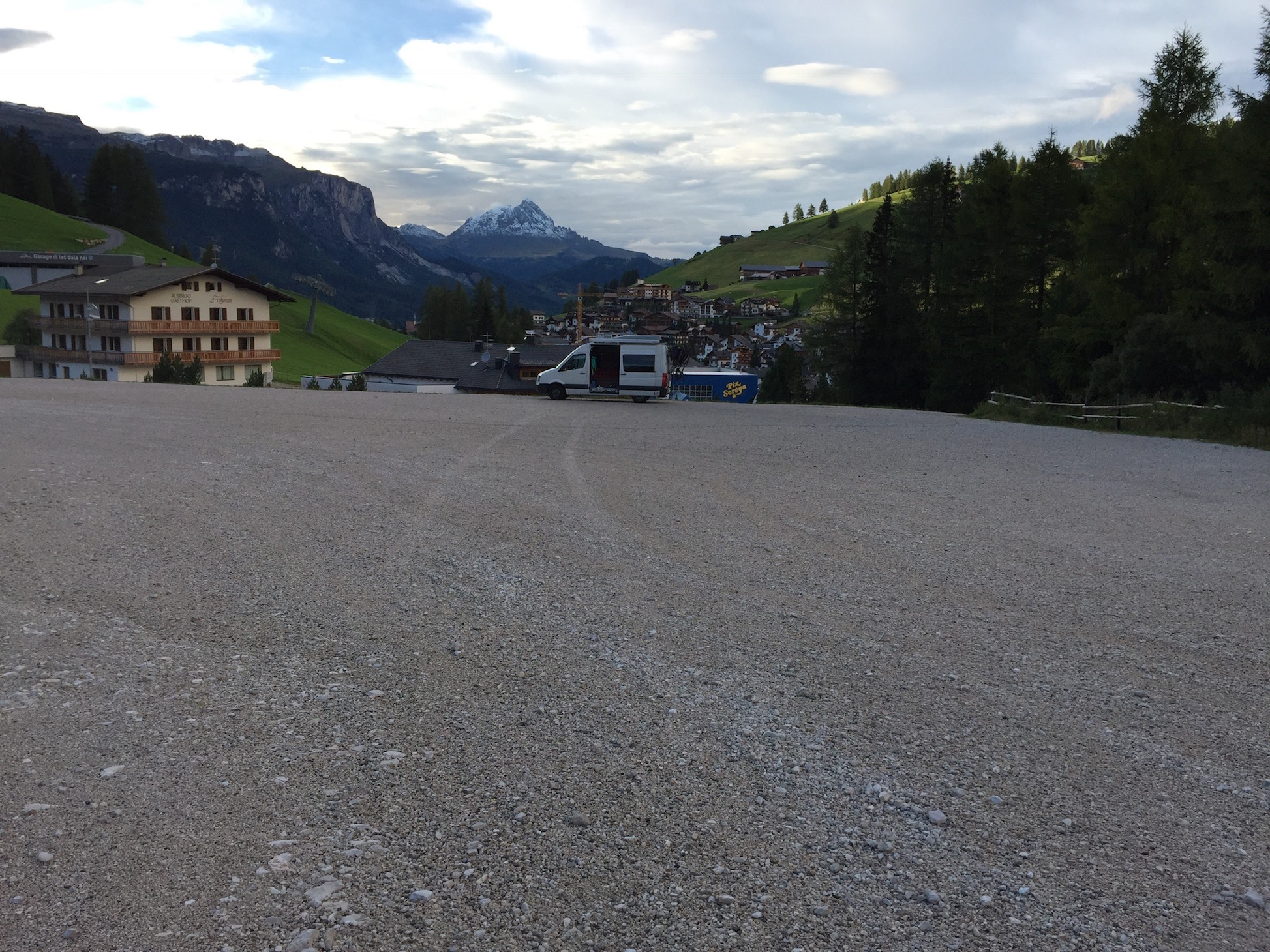 Free after 17:00 and before 08:00 when the lift is not running. No facilities but you can use the loo for free in the morning when the chairlift opens. Nice view of San Cassiano and very quiet
Lago di Landro (SS51 lay-by)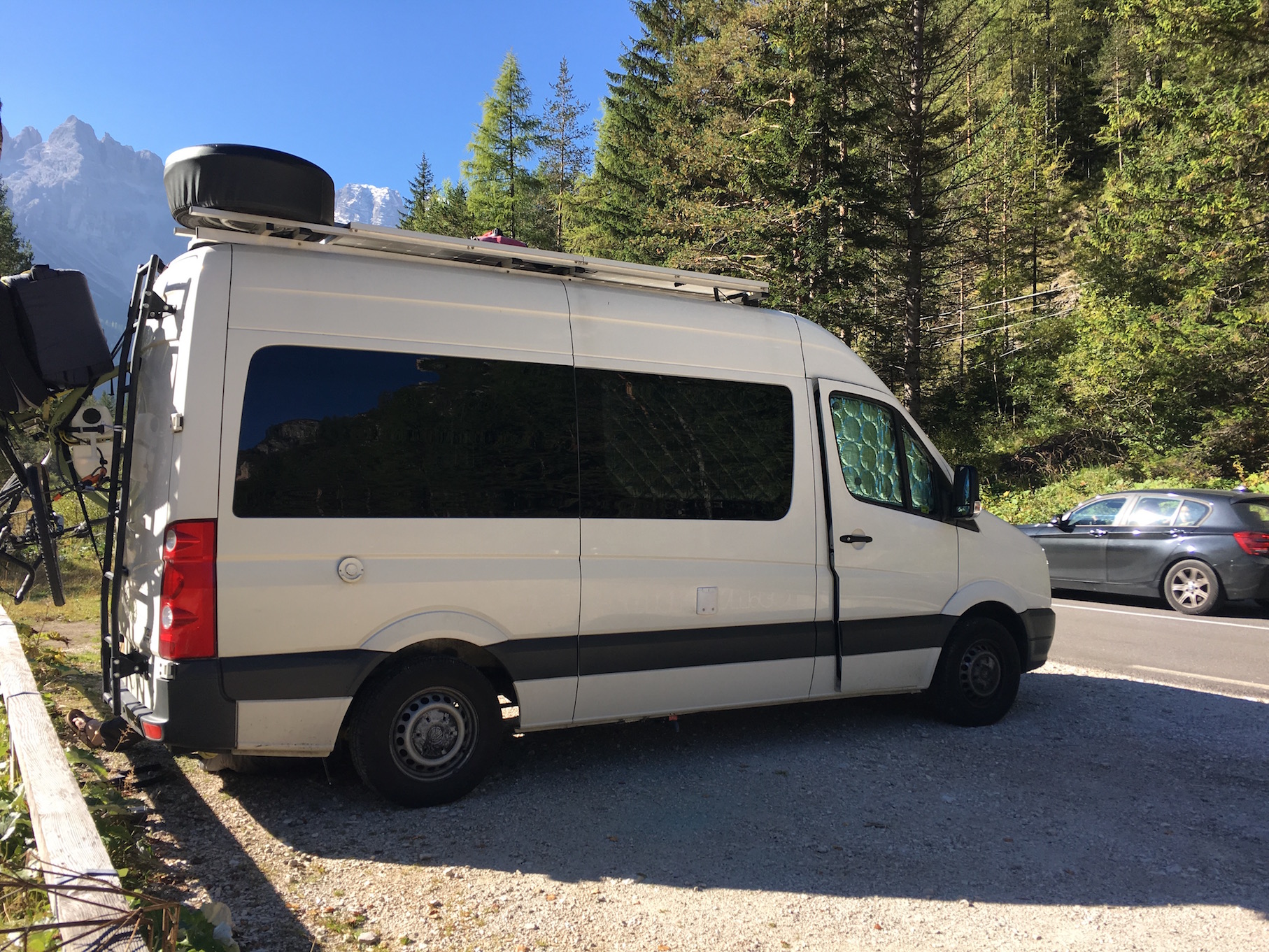 A bit noisy and no facilities but there's a restaurant five minutes down the road where you can get a coffee or breakfast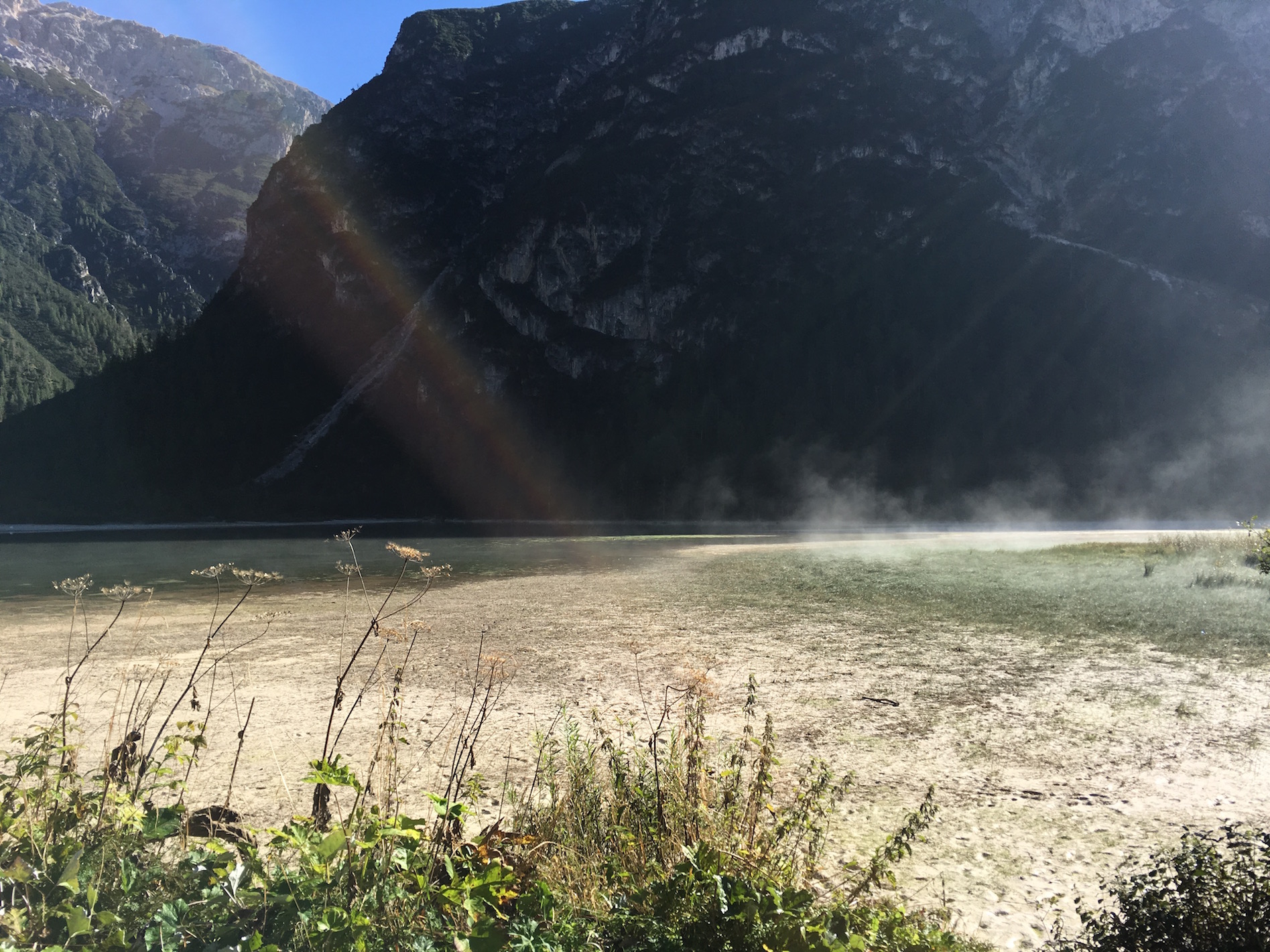 And the views of the lake in the morning are beautiful
San Giuliano (Venice) Caravan Park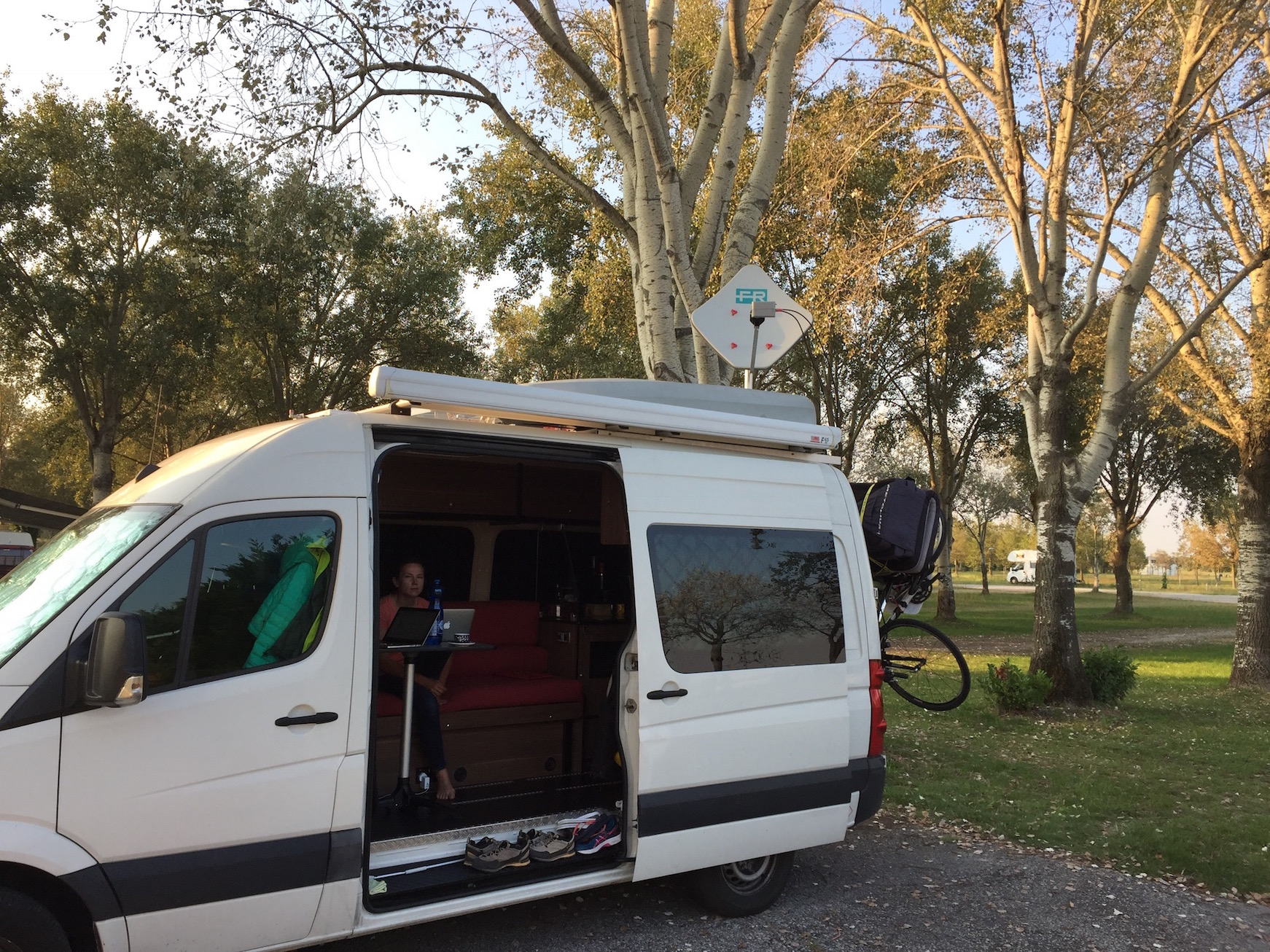 EUR 22.00 for electricity, hot showers, toilets, camper service. No wifi but hey, we have a dish. Also 10 minutes away from Venice by bus or tram
If you don't mind roughing it a little bit, the amount of money you can save by travelling this way is not to be sniffed at. But the real prize is the autonomy and resourcefulness you gain, and the wee ripple of adventure you feel every time you lay your head down somewhere new.