Electronics and the Other Odd Jobs
With all the major work now complete, it was time to focus on the seemingly never-ending long tail of small jobs, including comms, stereo, etc.
A customary note, if you just want to look at pictures, here is a running project photo journal with the most recent photos at the top.
Costs
I've stopped counting. Last time I looked, the total figure was £21,994.07. Ten percent over budget, depending on what you include or exclude, but whatever. Anyway, it's acceptable.
Table of Contents
A bit of a mixed bag in this section, including:
Electronics Closet
Music
Internet (Wi-Fi, mobile and satellite broadband)
Telemetry
Table storage
Glass partition
Spare wheel cover
Bike rack
Engine and Mechanical
Miscellaneous
Electronics Closet
I remodelled the electronics closet, which wasn't originally hinged, so access was by way of screwdriver and four screws. Not ideal, for checking the status of equipment visually or just needing to toggles switches, pull cables.
I already had a spare button latch, so I fitted it, together with some stainless steel cabinet hinges at the bottom.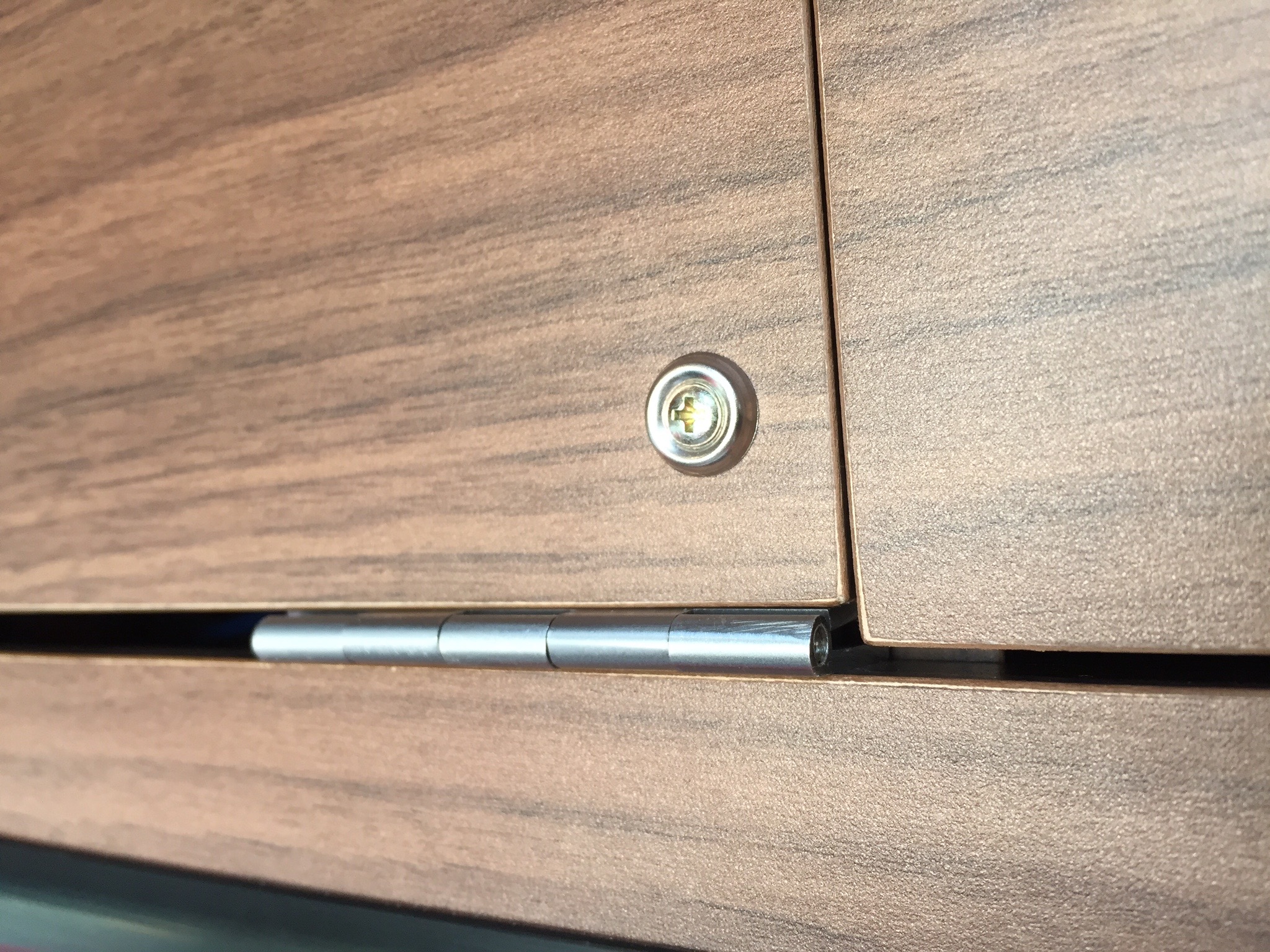 The cable nest inside the cabinet can now be easily accessed, if required.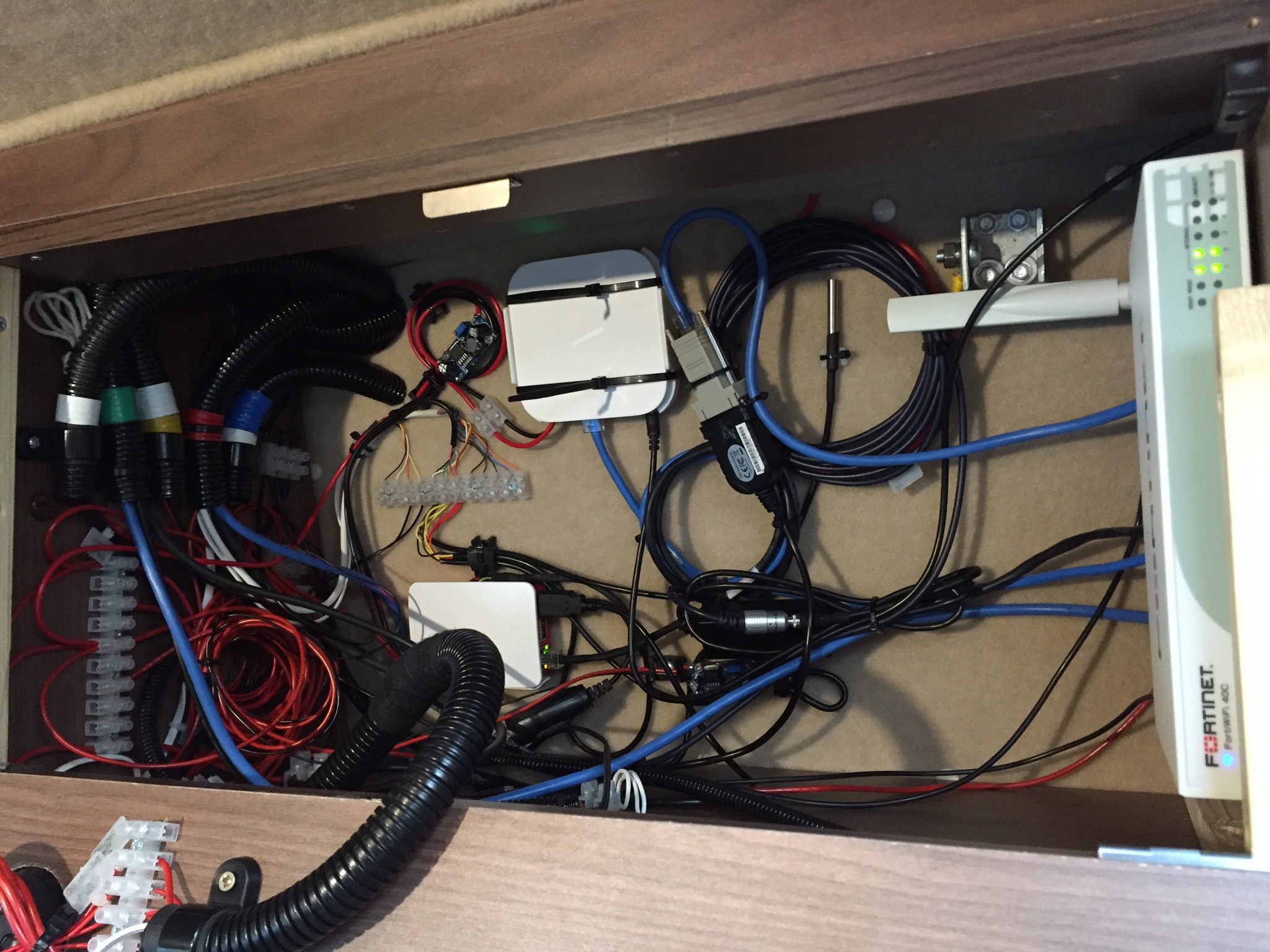 I originally planned to cut the panel in half and fit a perforated stainless steel mesh cover for ventilation, but bending the mesh without the right tools proved problematic, so I decided not to butcher it. In any case, with the gap at the bottom now provided adequate ventilation, this mesh was simply not necessary.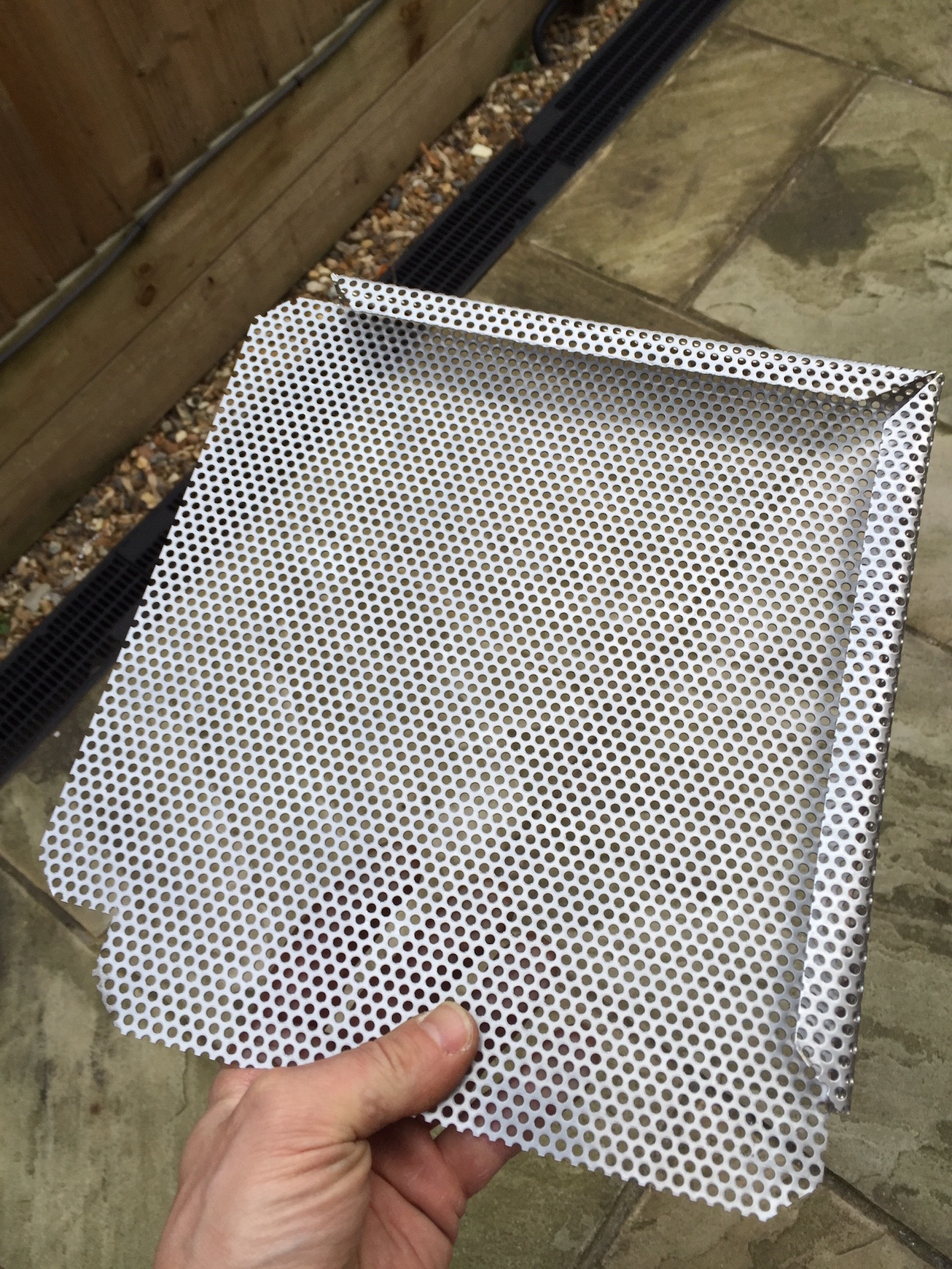 Music
We have an old Altec Lansing T612 speaker/iPod dock, which I was hoping to move into the van. The problem I did not anticipate, was the power supply. In the van we have a 12VDC+ power supply, provided by a pair of batteries. The unit requires a +18VDC and a -18VDC power supply. Since converting DC into AC and back into DC was not an option I was willing to accept, I tried to find a dual output power supply. This proved harder than I first thought, so I gave up and bought a Philips BTB2462/05 from Argos. This speaker can be hanged on the wall and takes in a single +12VDC supply, which meant I could power it directly off the batteries.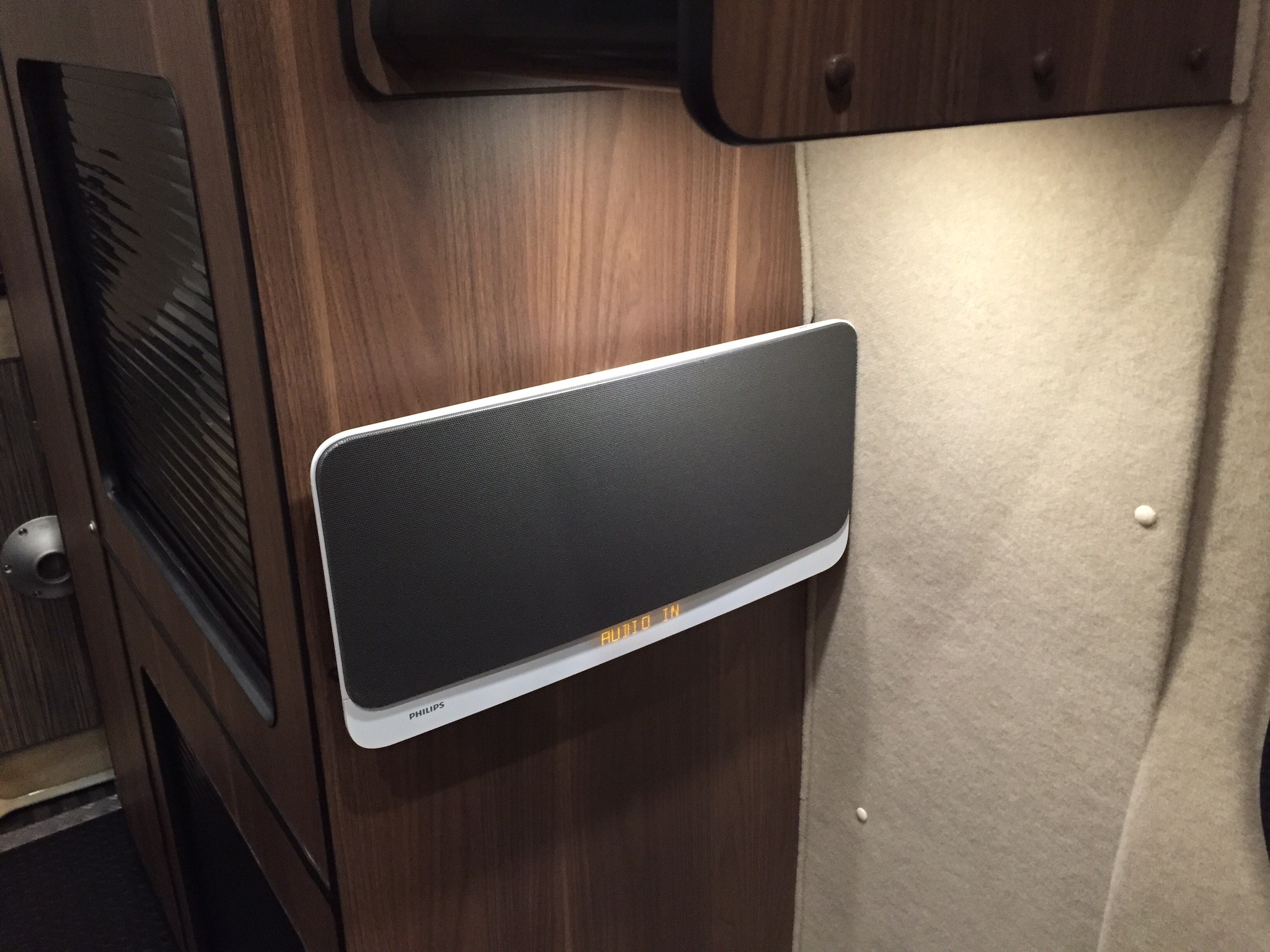 This unit doesn't sound anywhere as good as the Altec, but for some background music it is perfect. On the plus side, it has BT, AUX, USB inputs, a built-in CD reader (does anyone still use CDs?) and both a digital and analogue radio tuners.
The AUX input is permanently connected to the Apple TV (ATV) in the electronics closet, which has been modified to run off a +12VDC source, by way of a voltage step-down (buck) converter to the necessary internal voltage of +3.3VDC. eBay provided the best and cheapest source for these by way of LM2596 DC-DC Switching Adjustable Step Down Voltage Regulator Converter 3V-40V, so I bought a 5-pack.
In order to perform this procedure, the ATV must be opened and the internal power supply removed. I attempted to do this first using screwdrivers and a blade. My advice - do not do this. Instead, buy a iSesamo tool. Some of the plastic tabs holding the back cover will still snap/break, but at least the outside case won't look like some hungry beast tried to claw its way in. I didn't end up putting the back cover back after the operation, since the unit sits with its bum facing into the wall mounted cradle anyway.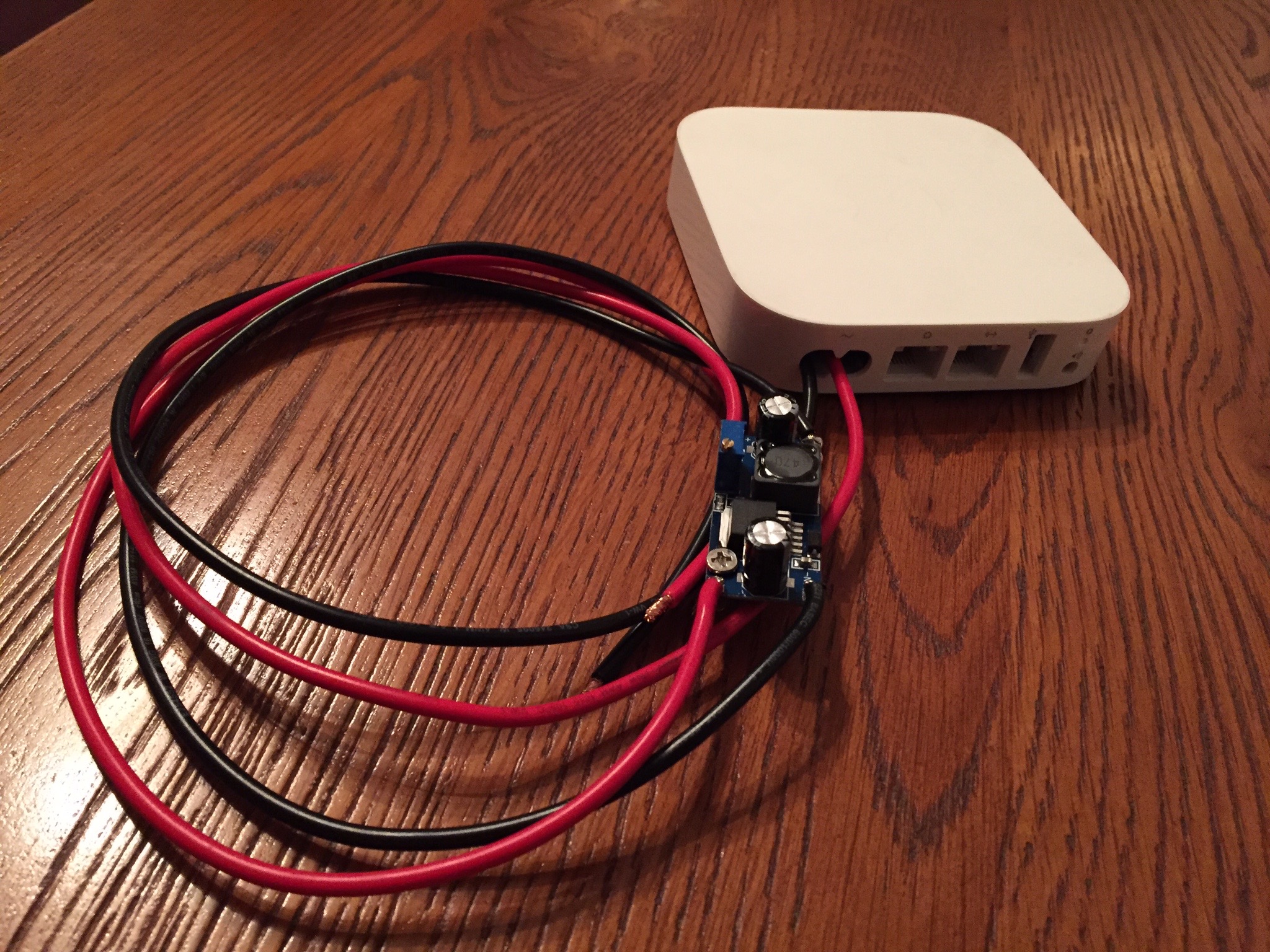 After the modification, and with a wall cradle in-place, the ATV is clipped in and connected to the on-board power supply. The 10m long headphones extension cable with 3.5mm jack/socket, runs from one side of the van where the speaker is, to the other side where the ATV lives. It is connected to the ATV through a 3.5mm Jack Car Audio Stereo Ground Loop Isolator Noise Hum Filter from eBay, in order to eliminate the humming noise caused by ground loops.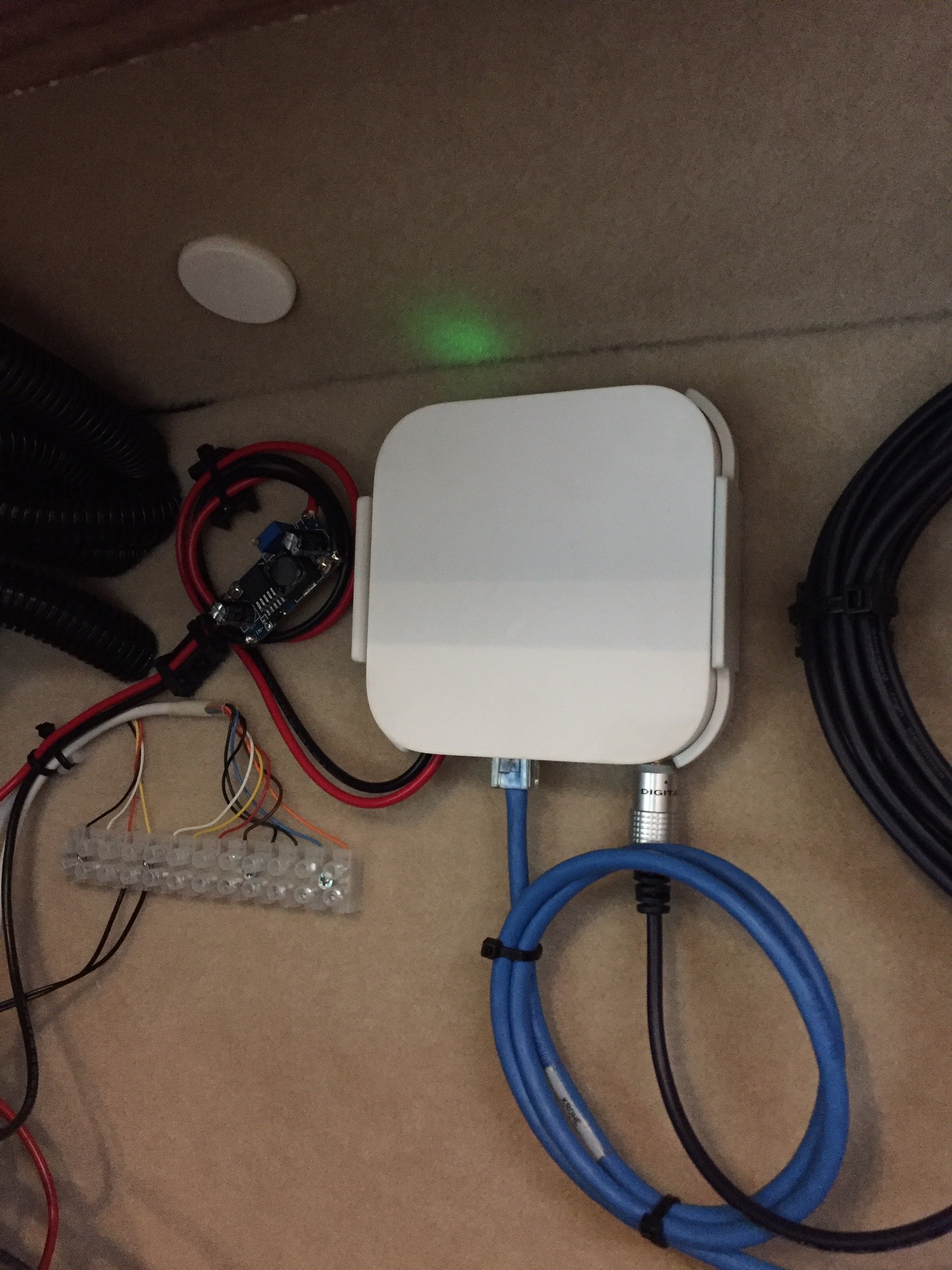 And finally secured with a cable tie harness..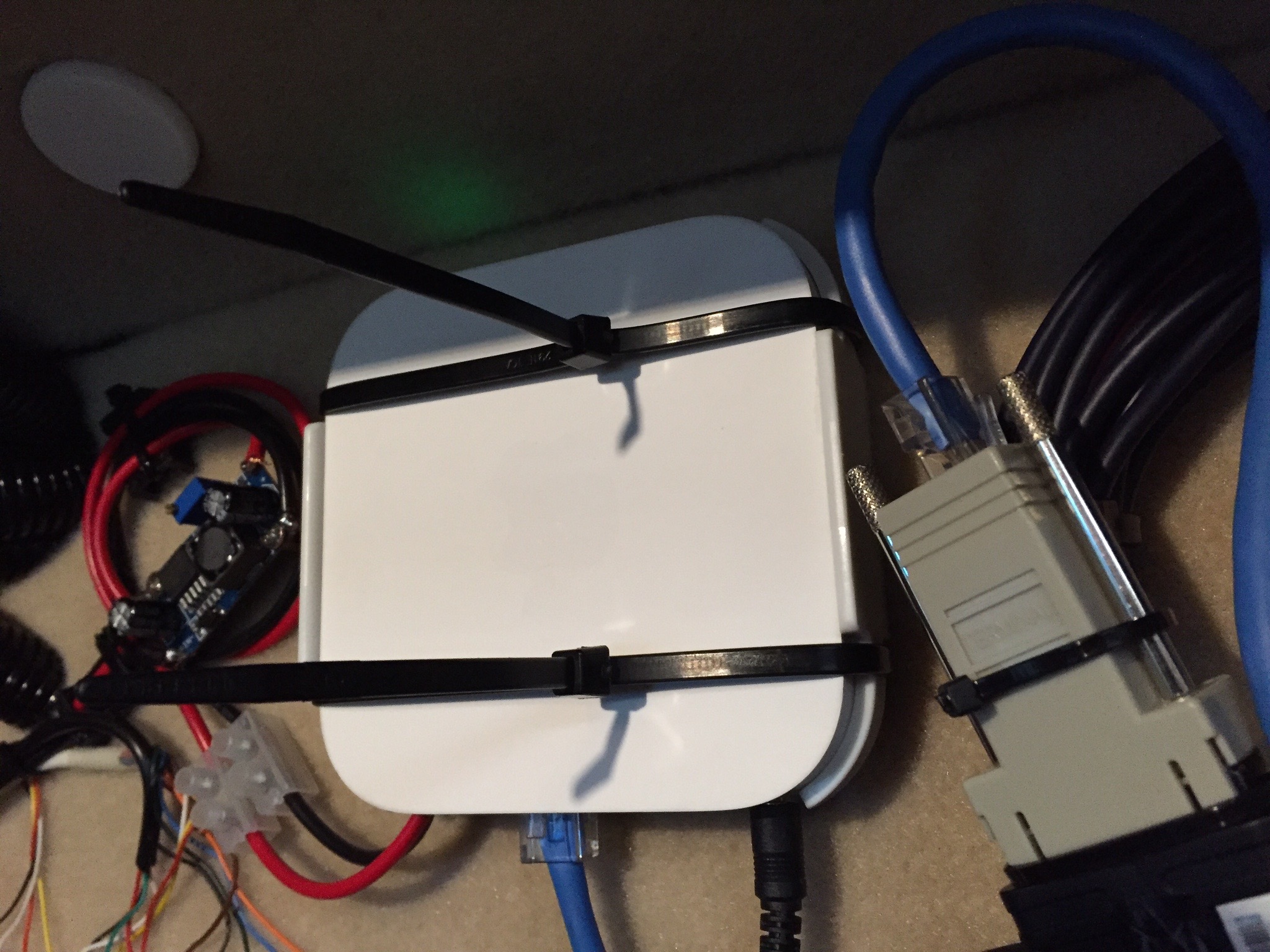 Internet
I put in a proper Internet firewall/router into the van, because:
it was cheaper than any cheap router;
runs on 12VDC;
has more functionality than any home router; and
I am familiar with the technology
The firewall is a FortiNet FortiWifi 40c, which I got on eBay for a bargain price. The only downside to this unit is it's moderate power consumption. It consumes around 1A@12VDC when powered up.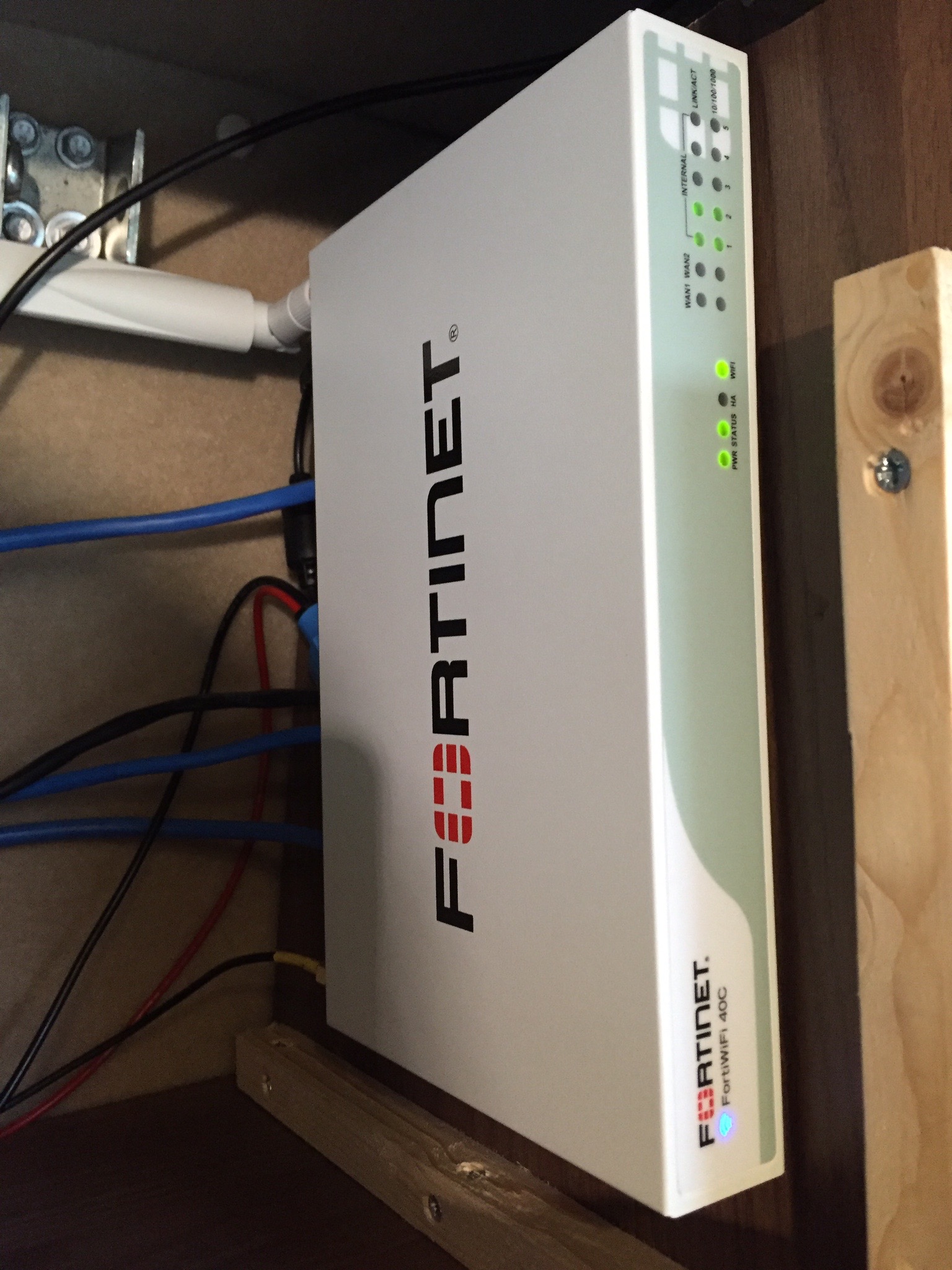 It has two antenna sockets, one of which is connected to the external antenna on the roof. The other is connected to the internal antenna.
The Wi-Fi interface on the firewall is re-configured as a client, rather than a AP and is bridged to the nearest external Wi-Fi (e.g. camp site) using the UI or the CLI. The ATV broadcasts a private Wi-Fi network into the van, to which we connect our devices. The ATV's WAN port is connected to the firewall.
Mobile Broadband
In the absence of a Wi-Fi uplink, the firewall has a backup mobile broadband connection by way of a ZTE MF823 modem/router combination. The plan is to use a EU wide roaming provider called Globalgig. For testing, they send out a free 4G SIM with 100MB of data to be used within 3 months.
I had my relatives order for me, an unlocked MF823 from a Russian provider Beeline (Билайн) in Moscow.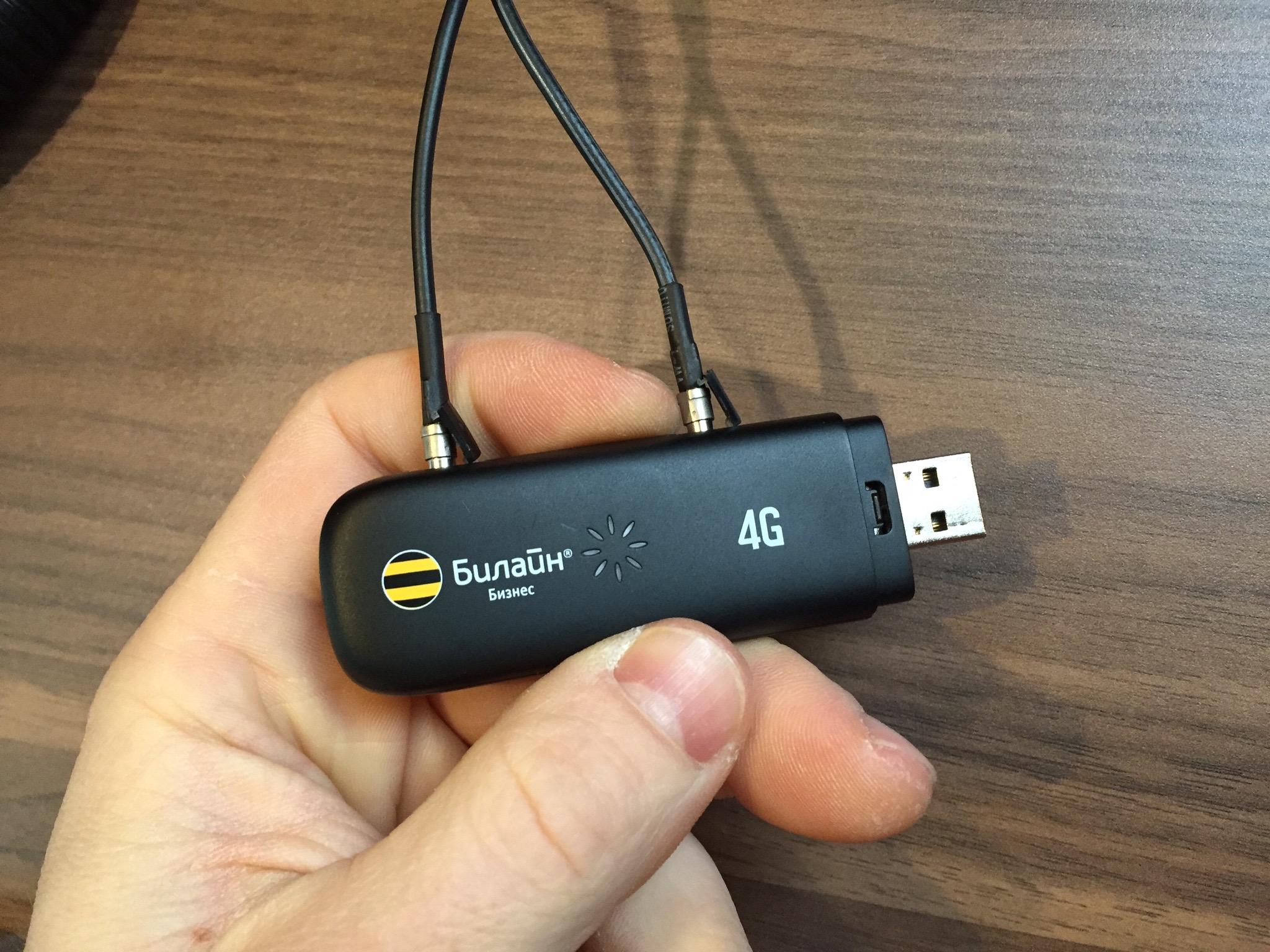 In addition, this model has two TS9 sockets for a dual external MIMO antenna connection, like the Netgear 6000450 AirCard.
The antenna comes with two suction cups for mounting on a window as well as clips to go over a laptop screen.
To make this router work with the Fortigate firewall, the firewall needs to see it as a USB serial modem, so that it can control the connection using PPP. However this device runs an Android OS inside, which takes control of its serial ports shortly after booting up and prevents external PPP dealers from establishing a connection.
I messed around with it for about a week trying to turn it into a dumb serial modem, completely bricking it at one point and having to pull out a soldering iron to get it into a factory recovery mode.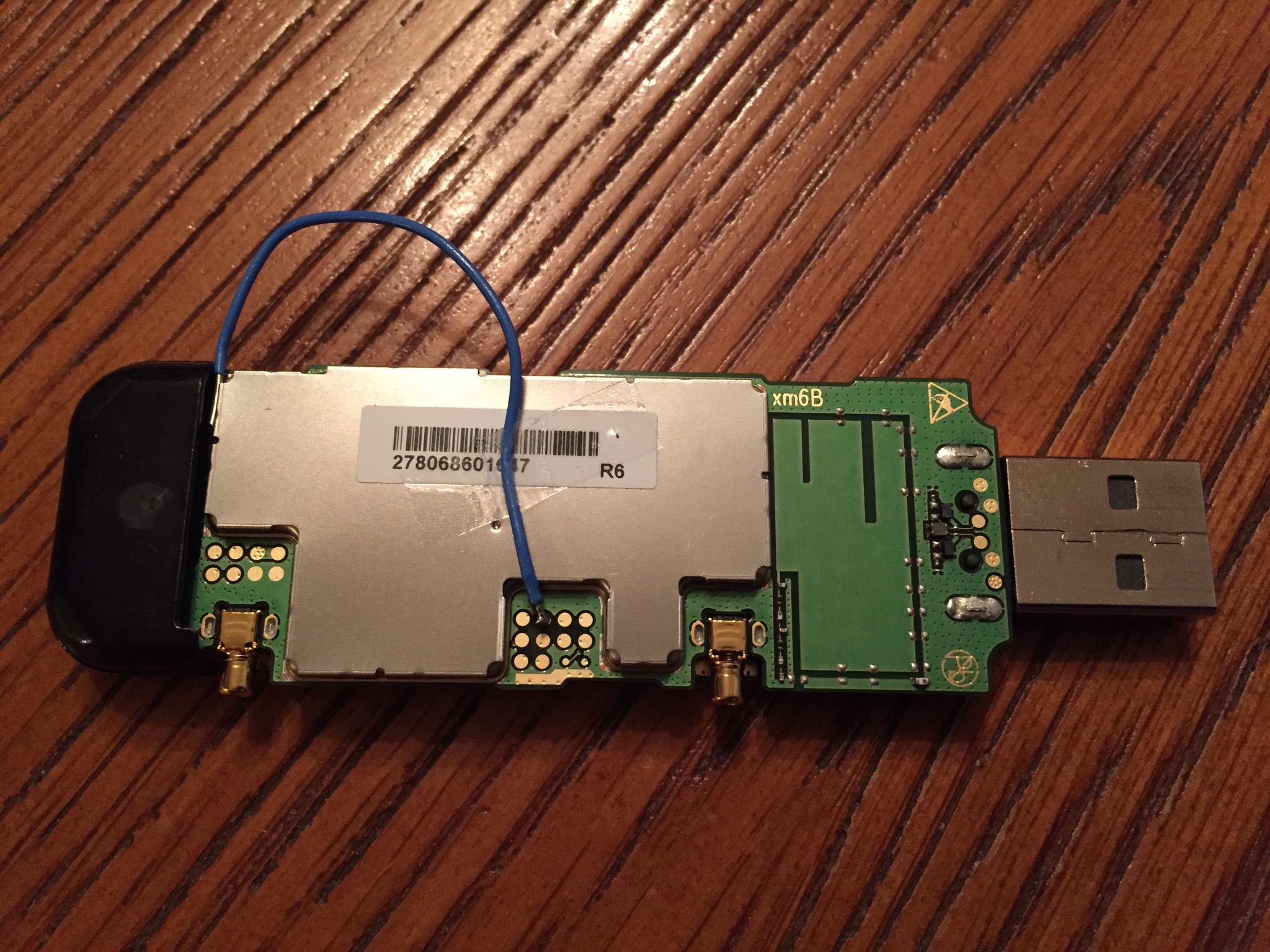 Luckily, a number of Russian forum threads, helped me restore it back to a working state:
I am not going to go into the detail on the process, because all of the information is already in the above two threads and it is quite involved. For a summary of my recovery process, see posts #4437-#4438.
In any case, after recovering the device, I decided not to mess around with its internals anymore and connect it to the firewall using a cheap $7 USD router/bridge, designed specifically for the purpose of interfacing USB modem/routers to devices with Ethernet ports.
So, I ordered an unbranded clone of the HAME A5 router from AliExpress. The OpenWrt project has a trunk build for it and so does a dedicated and aptly named site Of Modems and Men, which provides a pre-baked OpenWrt replacement for the factory firmware in this router. Ultimately, I built my own image, using ExtRoot in order to expand the otherwise limited 4MB of flash storage on the router.
After saving around £3 on AliExpress and then having waited over a month for it to be delivered from China, it died on me three days later. I ordered a replacement on eBay for £6.58, which arrived around five days later.
To make the router work with the modem, the modem needs to be connected via a USB hub, otherwise it does not get detected by the router during boot (requires physical re-connection). A mini un-powered 3-port USB hub is available on eBay for around £4.
The other notable advantage of using the HUB, is the ability to also connect a USB memory stick to relocate the root partition of the router, otherwise one is limited to 4MB of flash storage to run the router OS, which is very tight.
This is what my home made 3G/4G router looks like.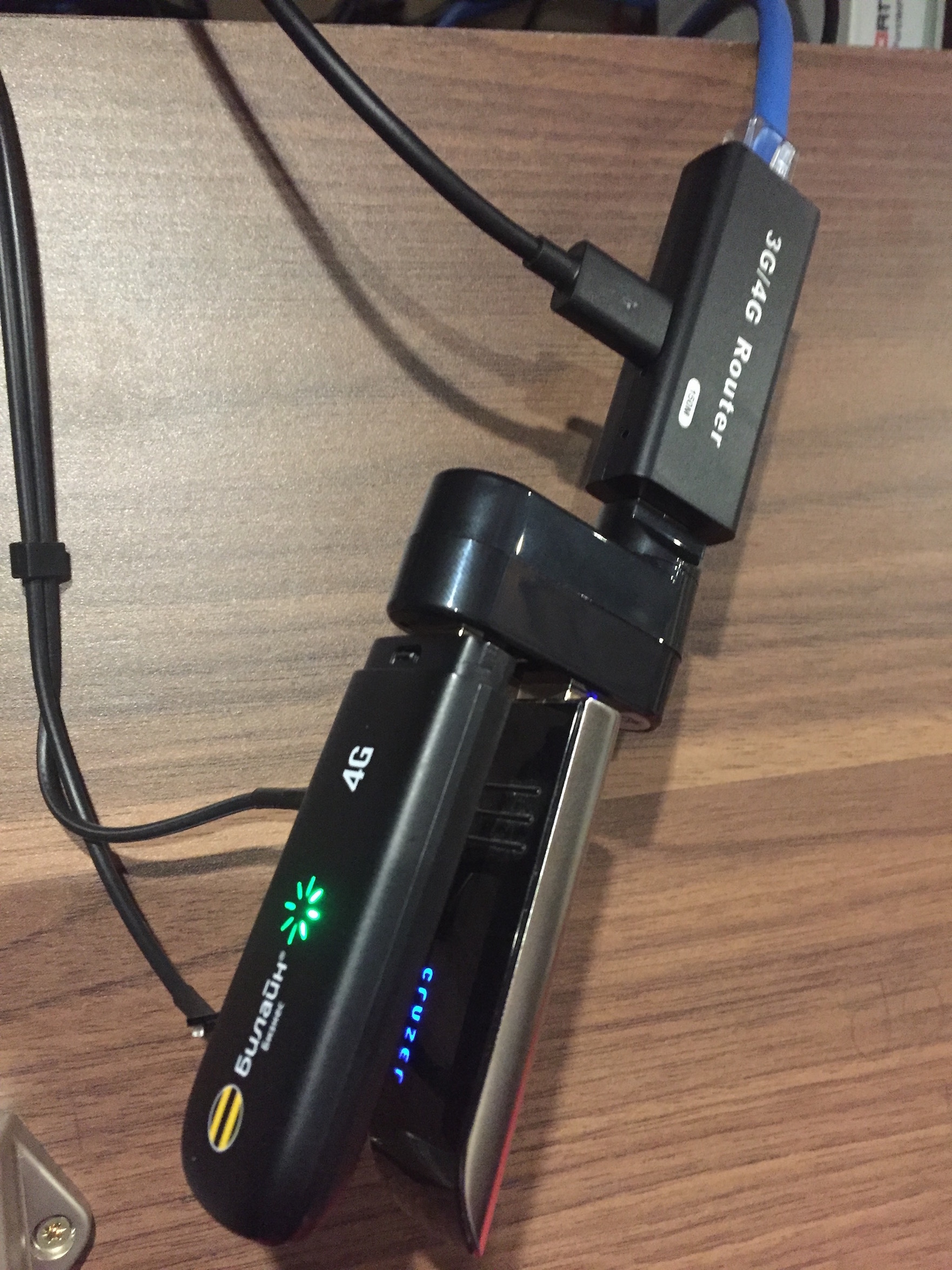 And this is it, bolted into the electronics closet with some wiring conduit saddles and zip ties.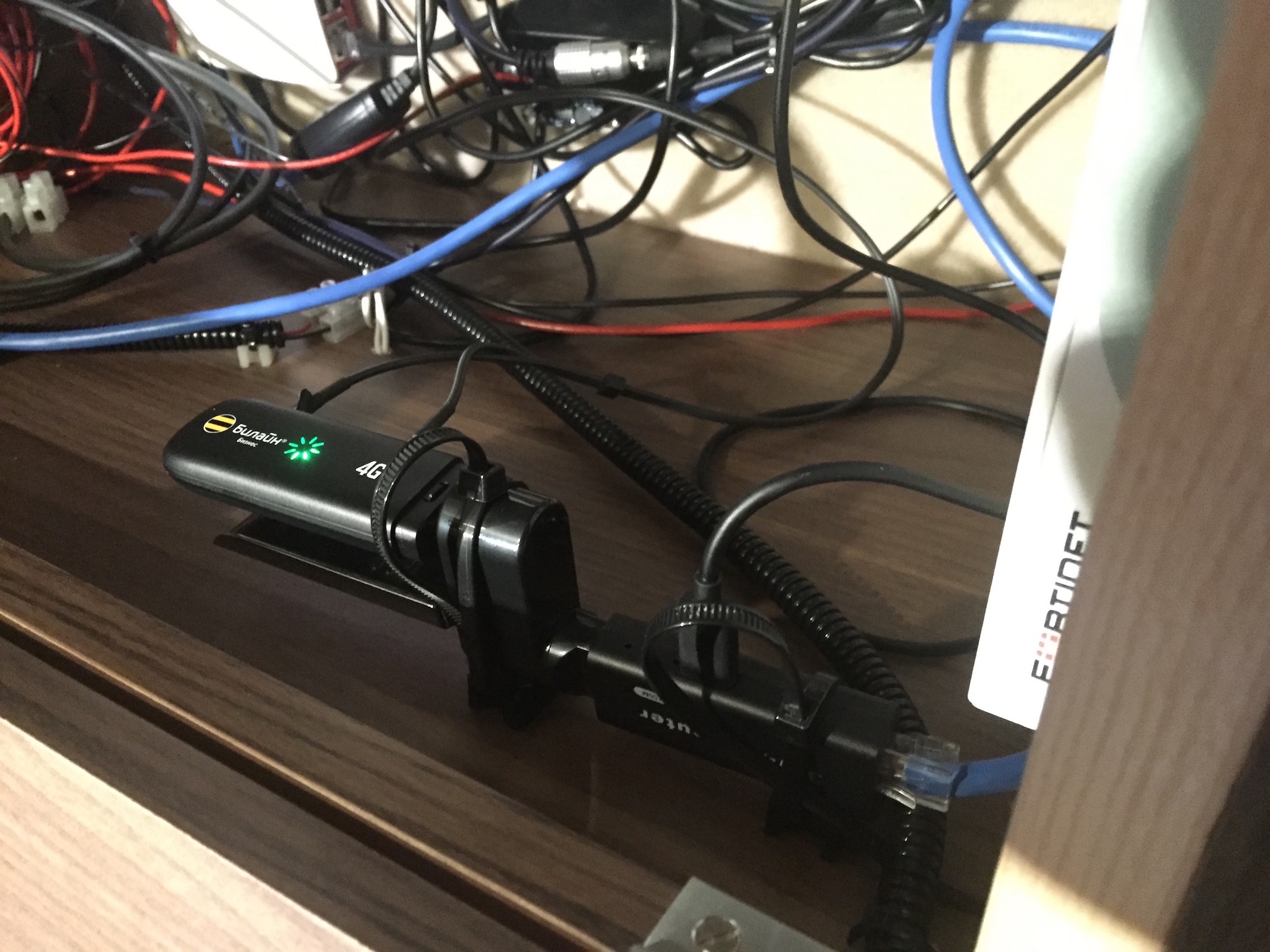 The router is connected to one of the WAN Ethernet ports on the firewall. The firewall port is in DHCP-client mode, so it obtains the address from the router via DHCP (router default). Two static routes perform fail-over between Wi-Fi and 3G/4G, with the lower distance set on the Wi-Fi interface and a higher distance on the mobile broadband one.
The modem has a web GUI, which is OK, but doesn't work in Google Chrome very well, so I built my own dashboard and minimal control interface to control the mobile link.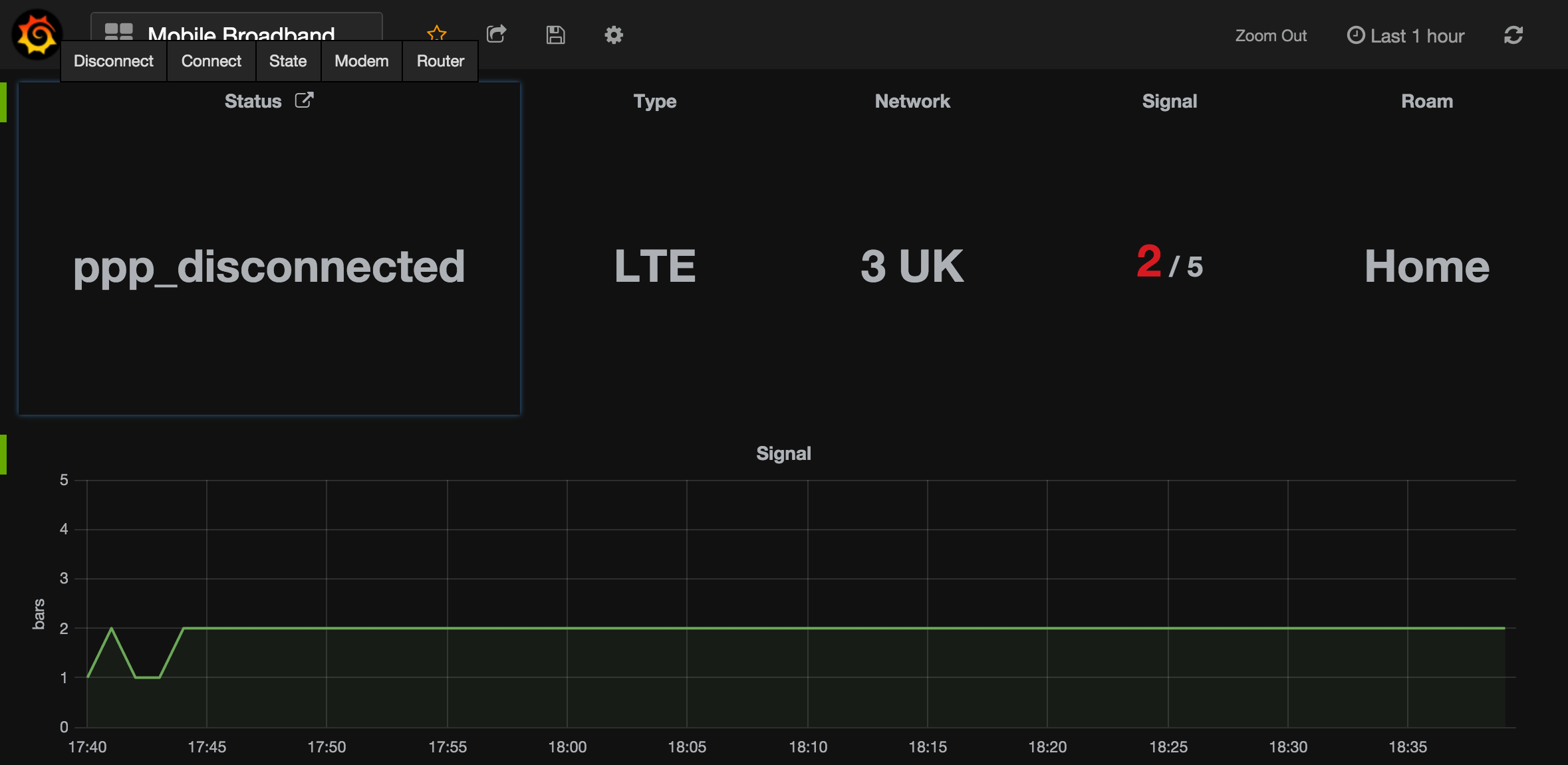 From this dashboard, the modem can be connected manually (by default auto-connect is off) as well as disconnected. There are also links to the modem and router web interfaces respectively.
Satellite Broadband
In the absence of both Wi-Fi and mobile network connections, satellite broadband link can be used. I've done some research on the subject and there appear to be two viable options (I am discounting all £3-4k fully automatic roof dish mounts, due to their high costs).
One option is to go with the manual tripod mounted kit, from EZ-Net for £948.95. This kit will work on either Astra 2* (max 20Mbps) or Astra 3* (max 10Mbps) satellites. This kit appears to be using the base QuikSAT QS80 tripod/dish system with the Newtec SAT2200 terminal equipment set. This set includes the MDM2200 satellite modem and the ILB2140 iLNB. A similar mobile setup is offered by Conrad Anderson for £799 (hardware only).
The alternative option is to make this kit up yourself for around one third of the price as follows:
In both cases, the one-off service activation fee of £49.95 applies and there are a variety of packages available, depending on the service region.
Another possible ISP, with different tariffs and most likely different terminal hardware is Broadband Everywhere. There is also a German ISP called IPCopter, though I am pretty sure they use a different satellite network, albeit with slightly deeper European coverage.
I am planning to go with the alternative option of assembling my own kit, using Astra 3 KU band, as this band covers the whole of Europe. I'll probably adapt the rear ladder on the van (with a possible extension pole) to mount the dish or fix the pole to the aluminium frame over the roof bars. If and when I get around to doing this, I will write a separate entry.
Update 02/05/2016: I've set this up now and the full write-up is here.
Telemetry
I had four waterproof DS18B20 one-wire digital temperature sensors hanging around from the previous project of calibrating the radiators in the house, so I've re-purposed them for this conversion project, plus ordered a firth one.
The temperature probes are connected to the Raspberry Pi 2 B via GPIO pins, which is mounted on the wall using the official RPi2 case.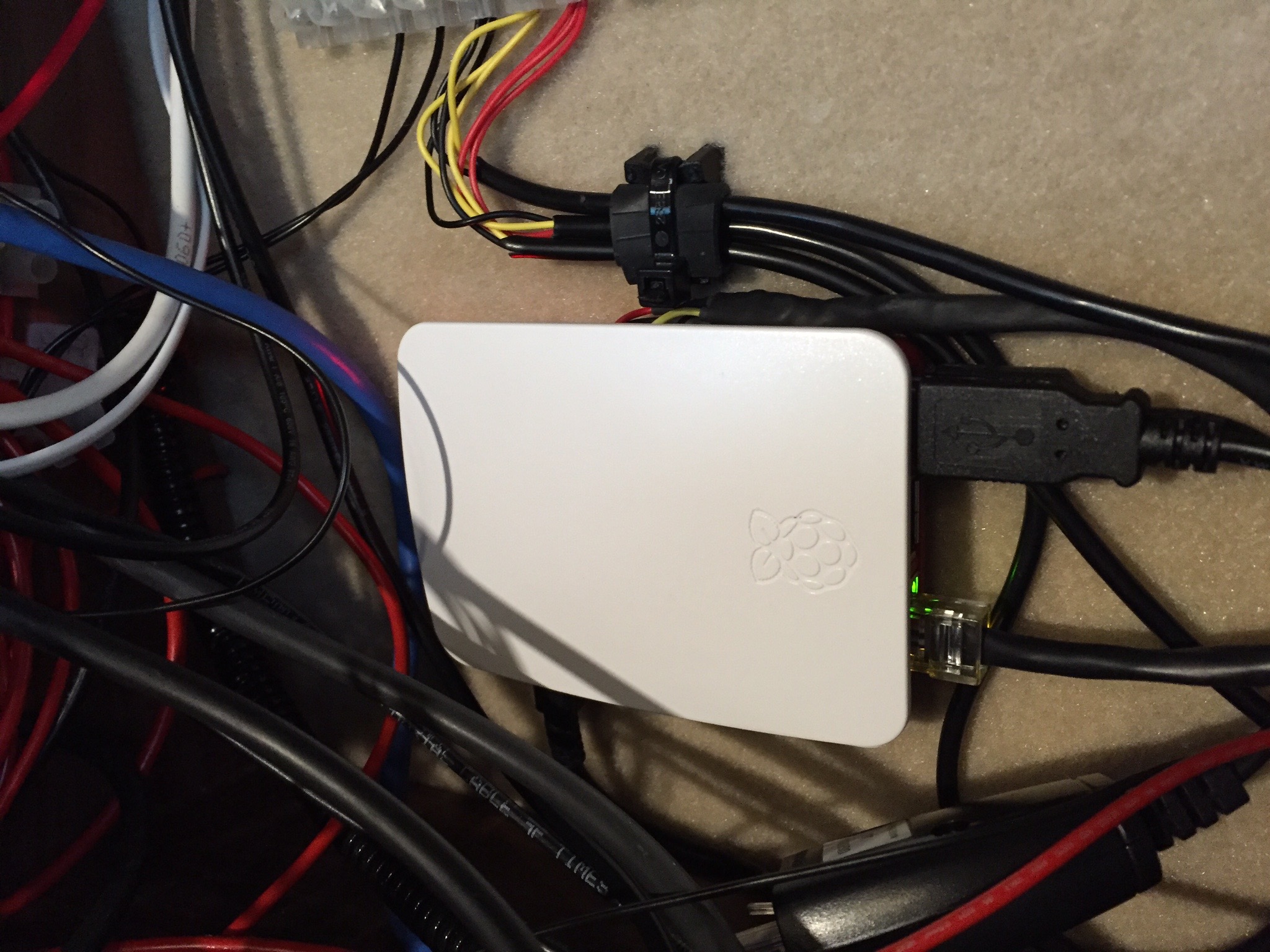 The temperature probe value can be read directly from the filesystem as follows:
pi@raspberrypi ~ $ cat /sys/bus/w1/devices/
28-00000625bd01/ 28-0000062841eb/ 28-021564e193ff/ 
28-00000626bee8/ 28-00000628c173/ w1_bus_master1/

# devices beginning with '28-' are the sensors
pi@raspberrypi ~ $ cat /sys/bus/w1/devices/28-*/w1_slave
89 01 4b 46 7f ff 07 10 2d : crc=2d YES
89 01 4b 46 7f ff 07 10 2d t=24562
1a 01 4b 46 7f ff 06 10 ea : crc=ea YES
1a 01 4b 46 7f ff 06 10 ea t=17625
e9 00 4b 46 7f ff 07 10 f1 : crc=f1 YES
e9 00 4b 46 7f ff 07 10 f1 t=14562
26 01 4b 46 7f ff 0a 10 64 : crc=64 YES
26 01 4b 46 7f ff 0a 10 64 t=18375
e2 00 4b 46 7f ff 0c 10 3d : crc=3d YES
e2 00 4b 46 7f ff 0c 10 3d t=14125

The above shows five temperature sensors , each reporting t=XX.YYY. This is the degrees Celsius with a precision to four decimal places. For example, t=17625 is 17.625 degrees Celsius.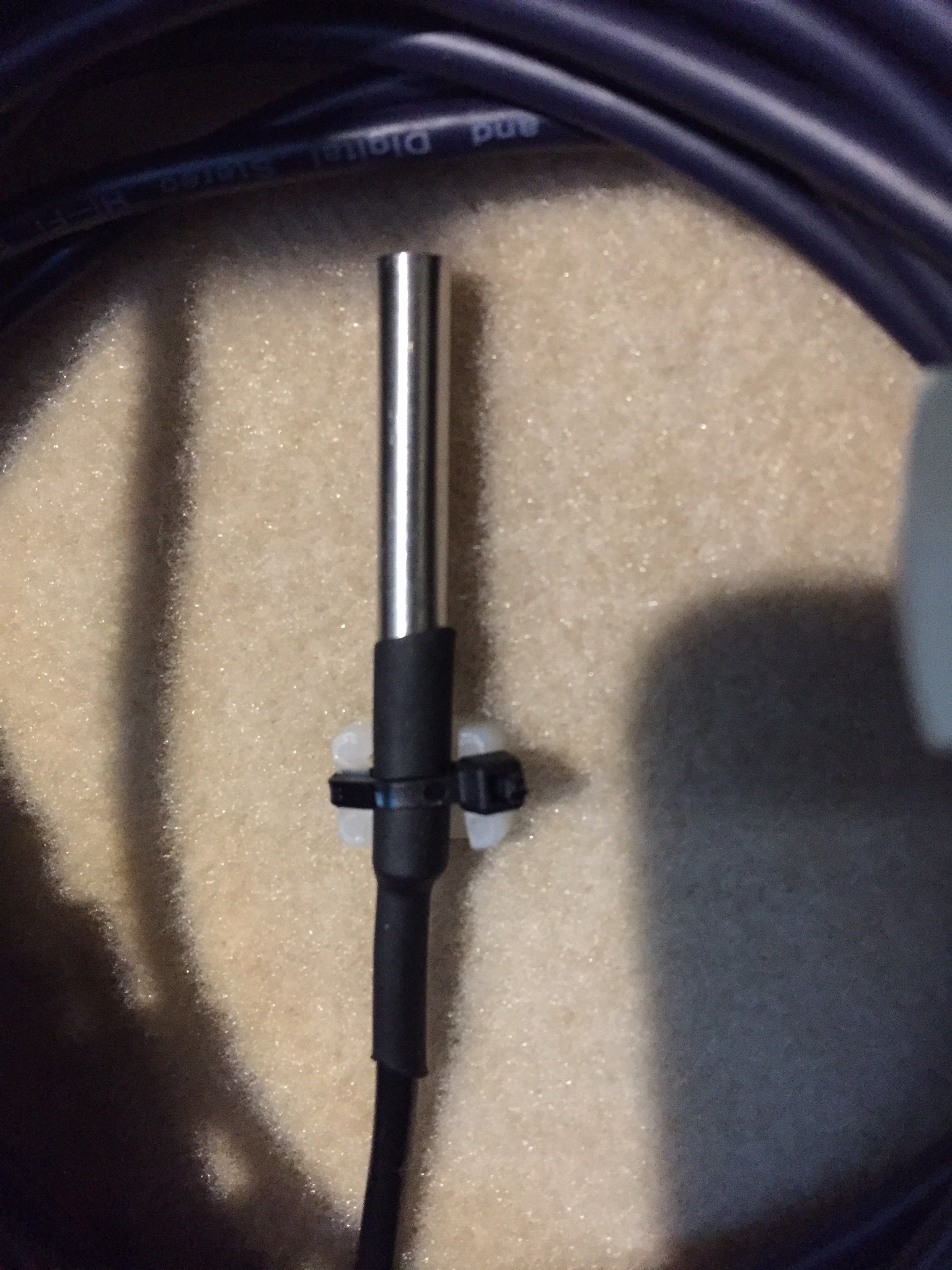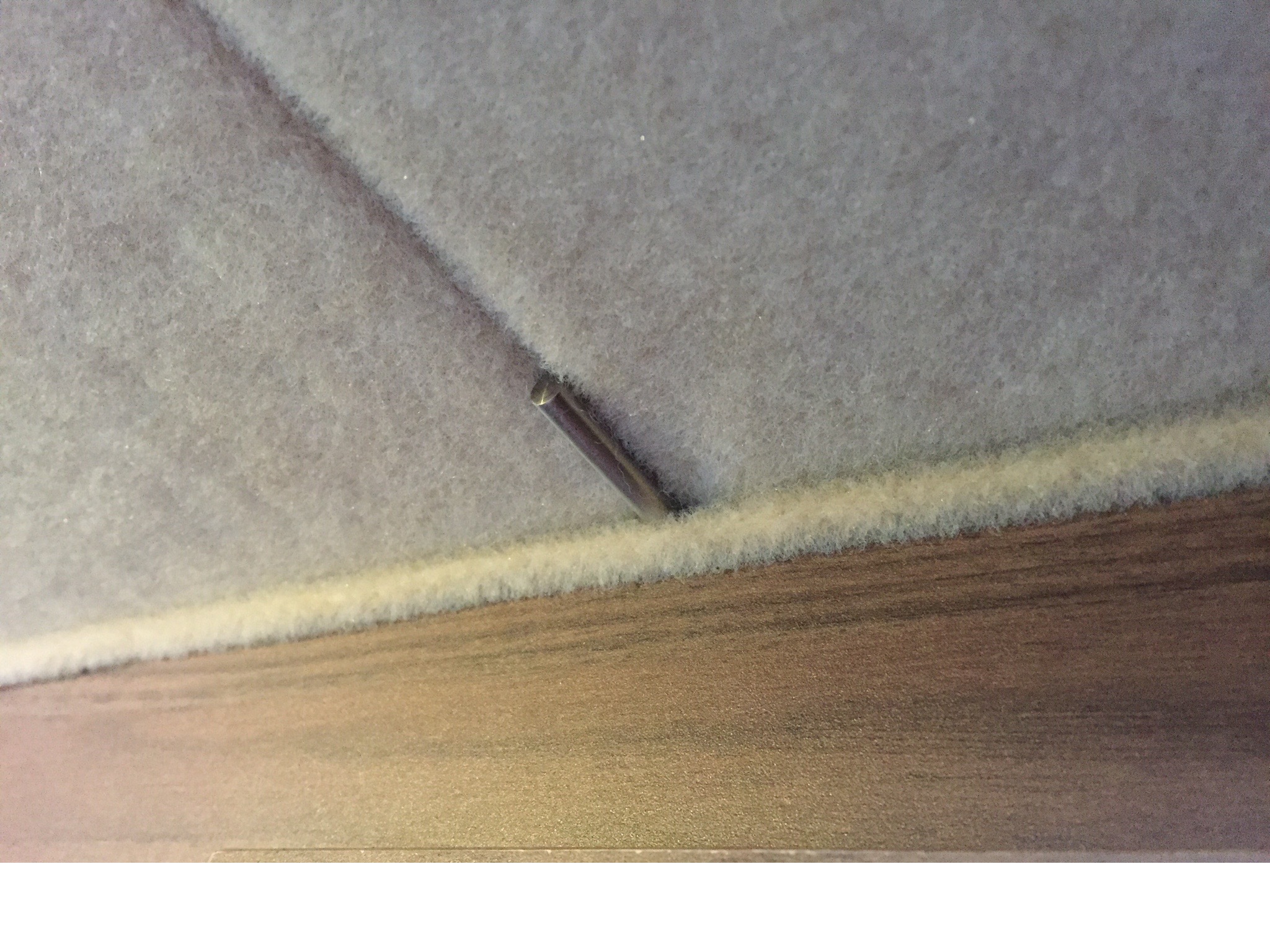 I put one sensor on the roof (external), and the rest are placed strategically inside the van.
I built a dashboard using Grafana, InfluxDB and a Python InfluxDB client to run on the RPi and make the temperature stats visible.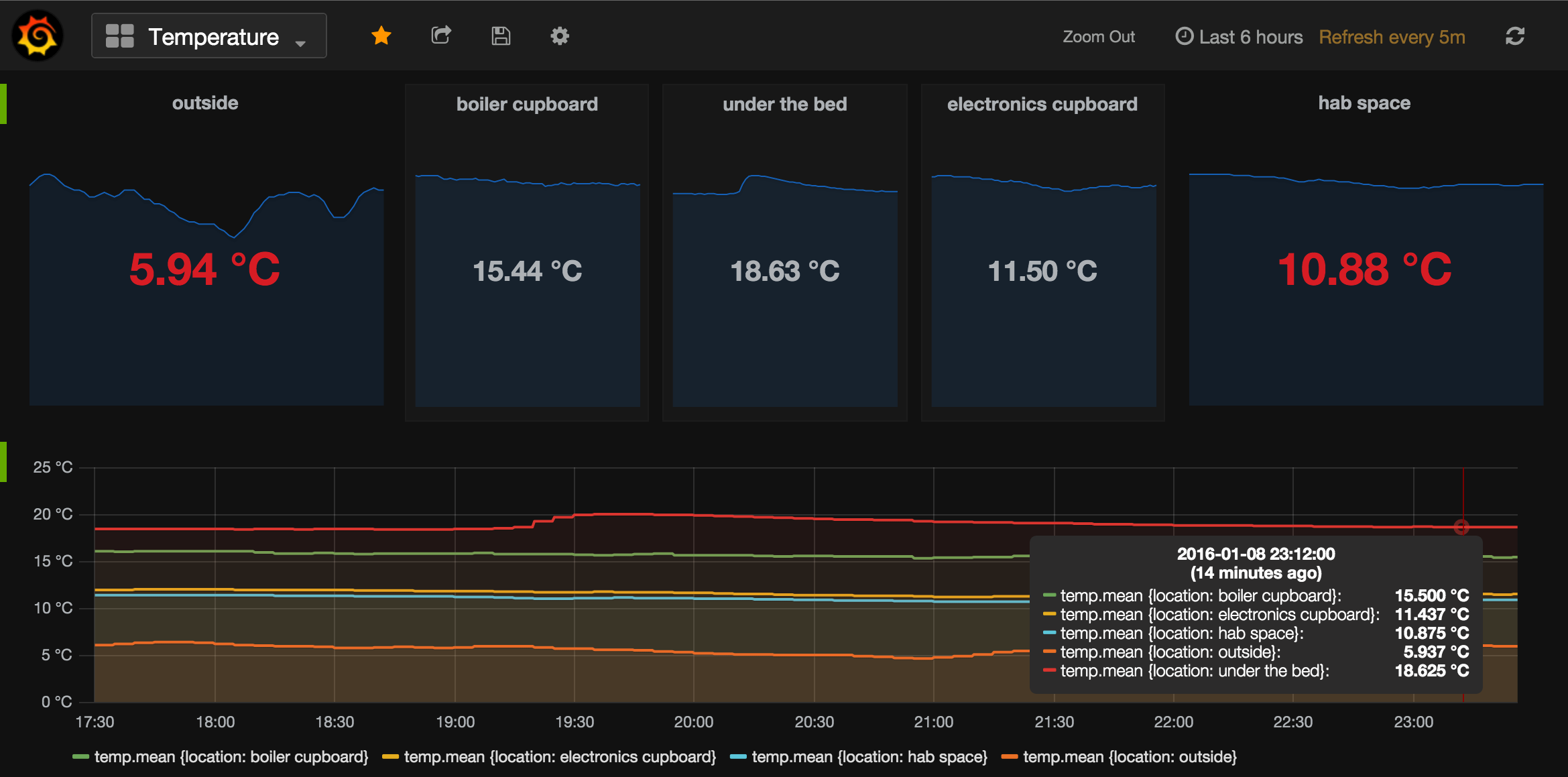 In addition, the RPi hosts two PL2303 USB serial adapters, connecting the console interfaces of the Fortigate firewall as well as the Santak UPS. The former can be used to connect to the physical serial console on the firewall and perform tasks such as firmware upgrades. The later can be used to programatically monitor the status of the UPS using NUT package with blazer_ser driver.
# cat /etc/nut/ups.conf | tail -n 6
[upsoem]
    driver = blazer_ser
    port = /dev/ttyUSB1
    default.battery.voltage.high = 12.7
    default.battery.voltage.low = 11.4
    # run-time guesstimates, to be adjusted
    #runtimecal = 21600,100,36000,50

# upsc upsoem@localhost
battery.charge: 100
battery.runtime: 216000
battery.voltage: 13.20
battery.voltage.high: 12.7
battery.voltage.low: 11.4
battery.voltage.nominal: 12.0
device.type: ups
driver.name: blazer_ser
driver.parameter.pollinterval: 2
driver.parameter.port: /dev/ttyUSB1
driver.parameter.runtimecal: 21600,100,36000,50
driver.version: 2.6.4
driver.version.internal: 1.55
input.current.nominal: 4.0
input.frequency: 50.0
input.frequency.nominal: 50
input.voltage: 236.0
input.voltage.fault: 0.0
input.voltage.nominal: 230
output.voltage: 236.0
ups.beeper.status: enabled
ups.delay.shutdown: 30
ups.delay.start: 180
ups.load: 0
ups.status: OL
ups.temperature: 27.0
ups.type: offline / line interactive

Here is the UPS dashboard, showing some key metrics with the UPS on mains power.
I later plan to extend the existing dashboard to include the network related metrics.
Table Storage
We have a portable table, based around the Fiamma Island Table Leg Set.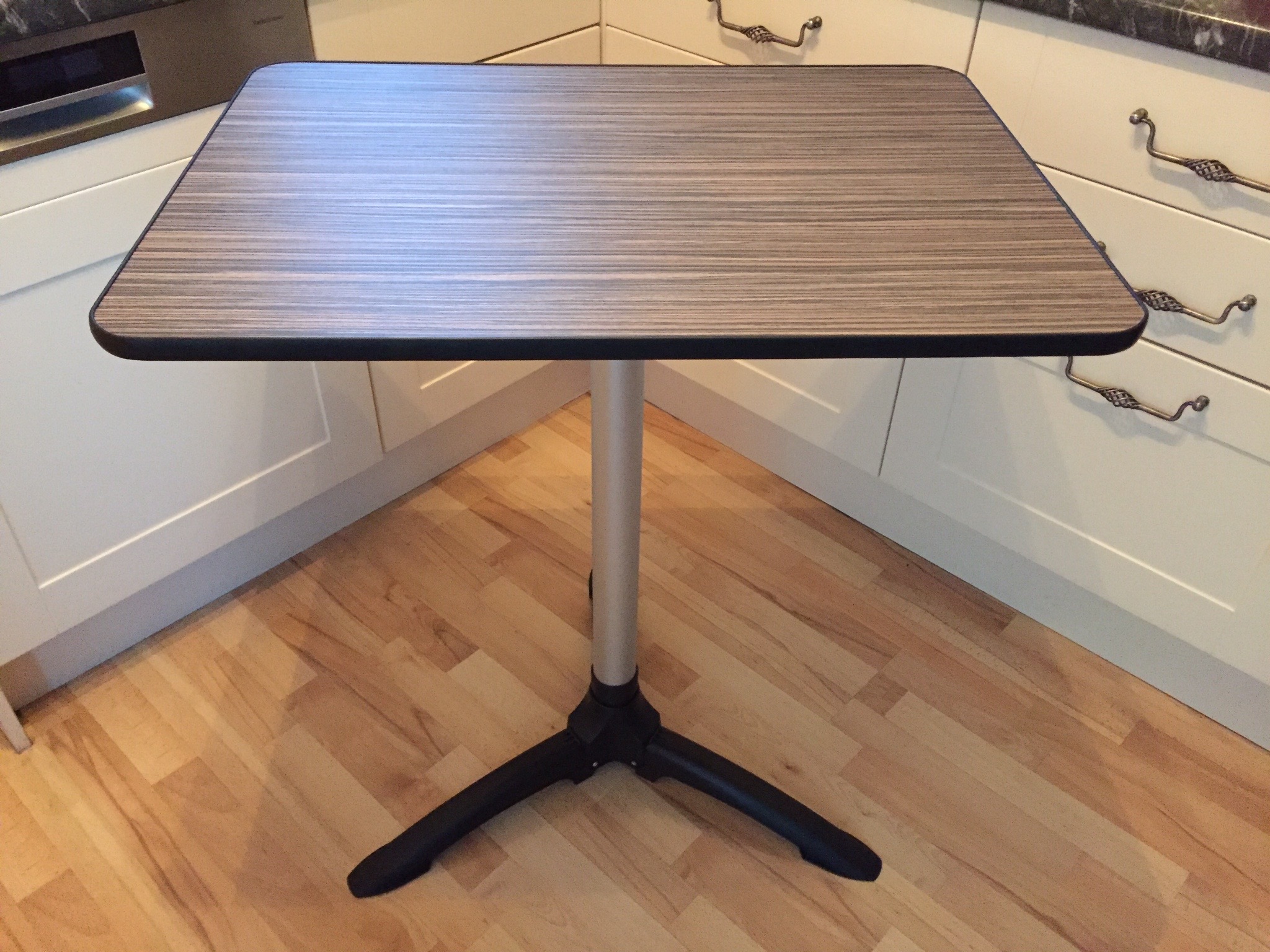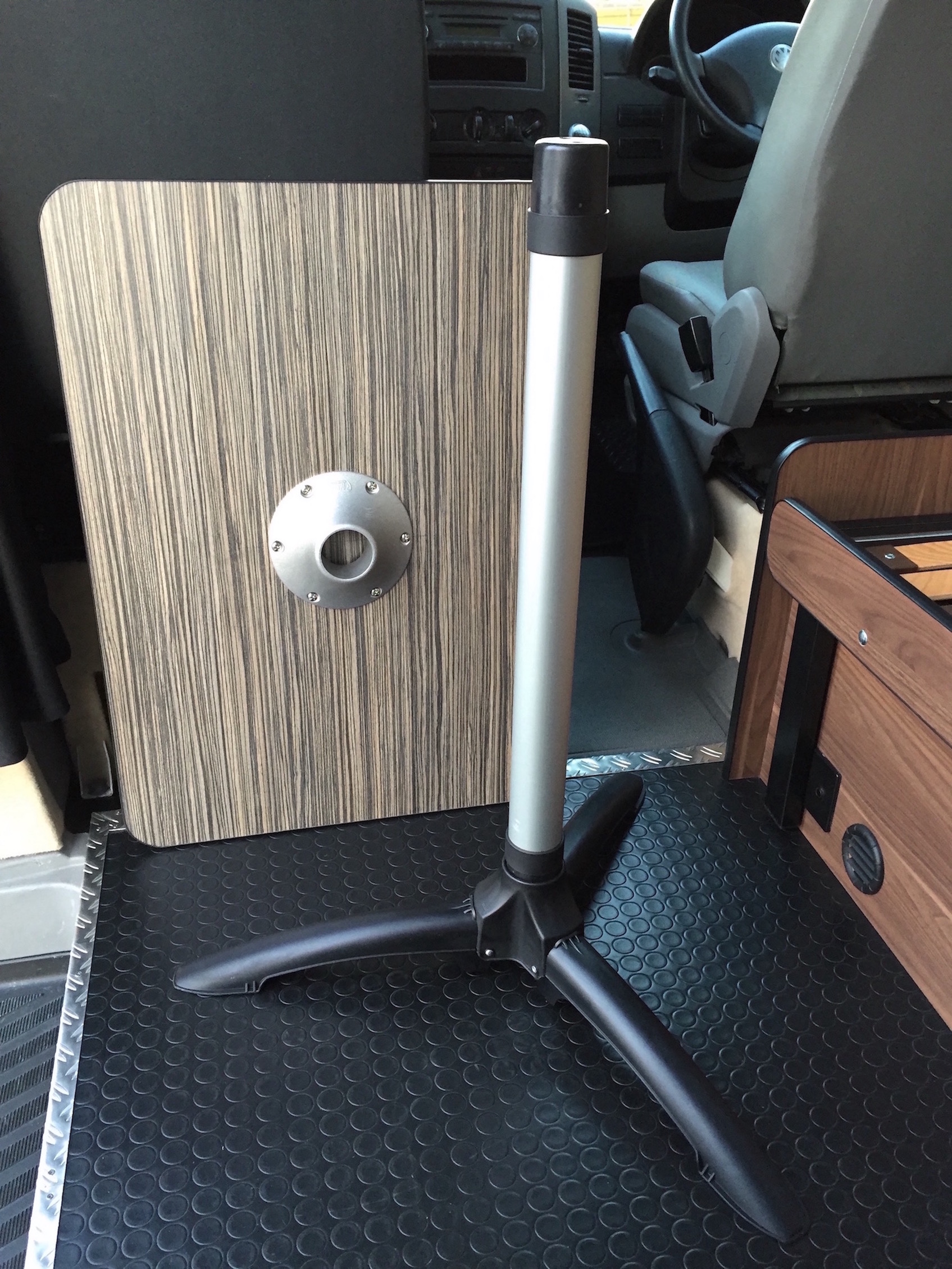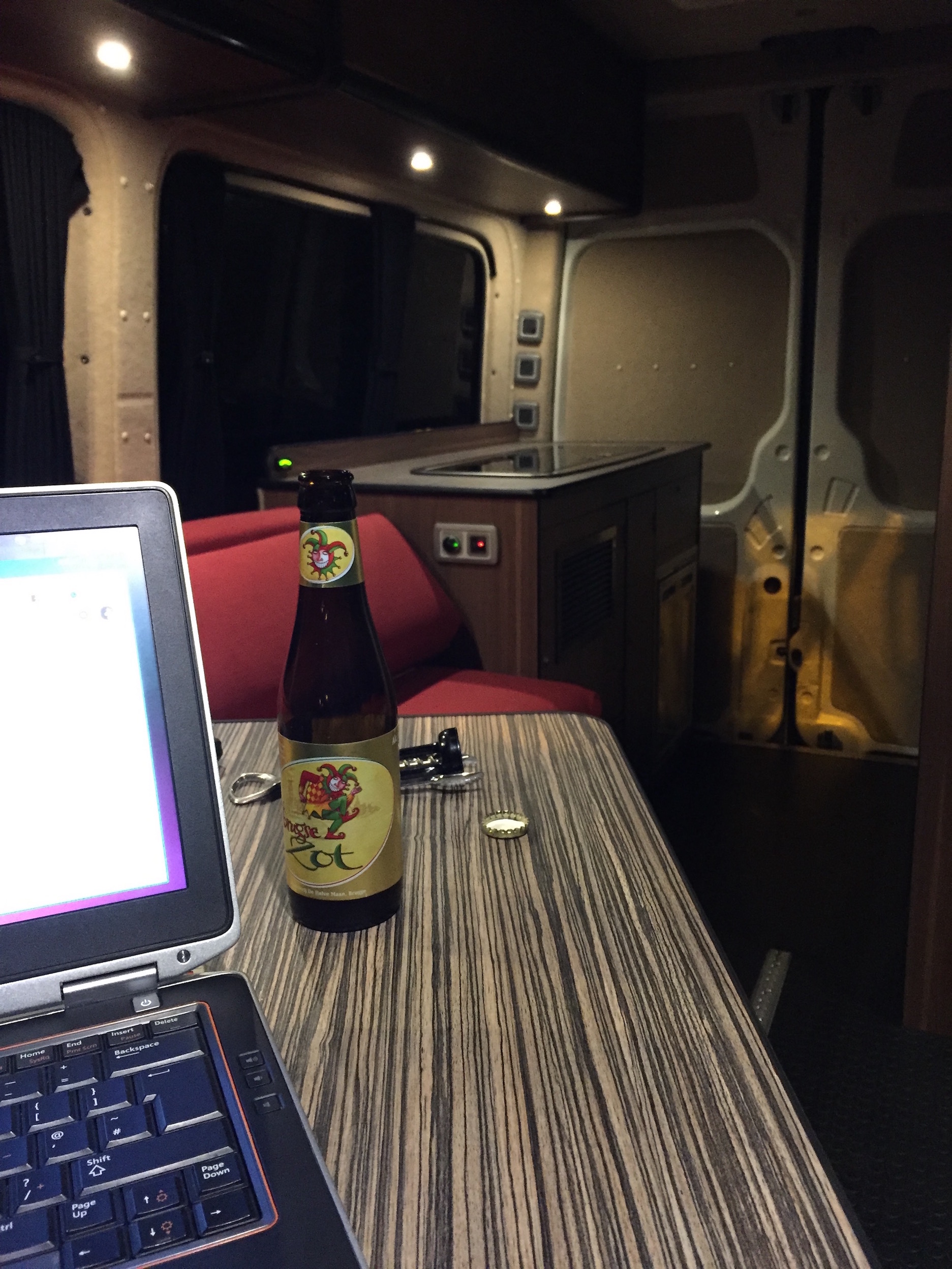 For storage of this table, I used the Campervan Table Storage Kit Black from eBay and table leg clips. These are screwed onto the rear doors and provide a secure storage for the table and leg when not in use. The tripod lives in one of the cupboards.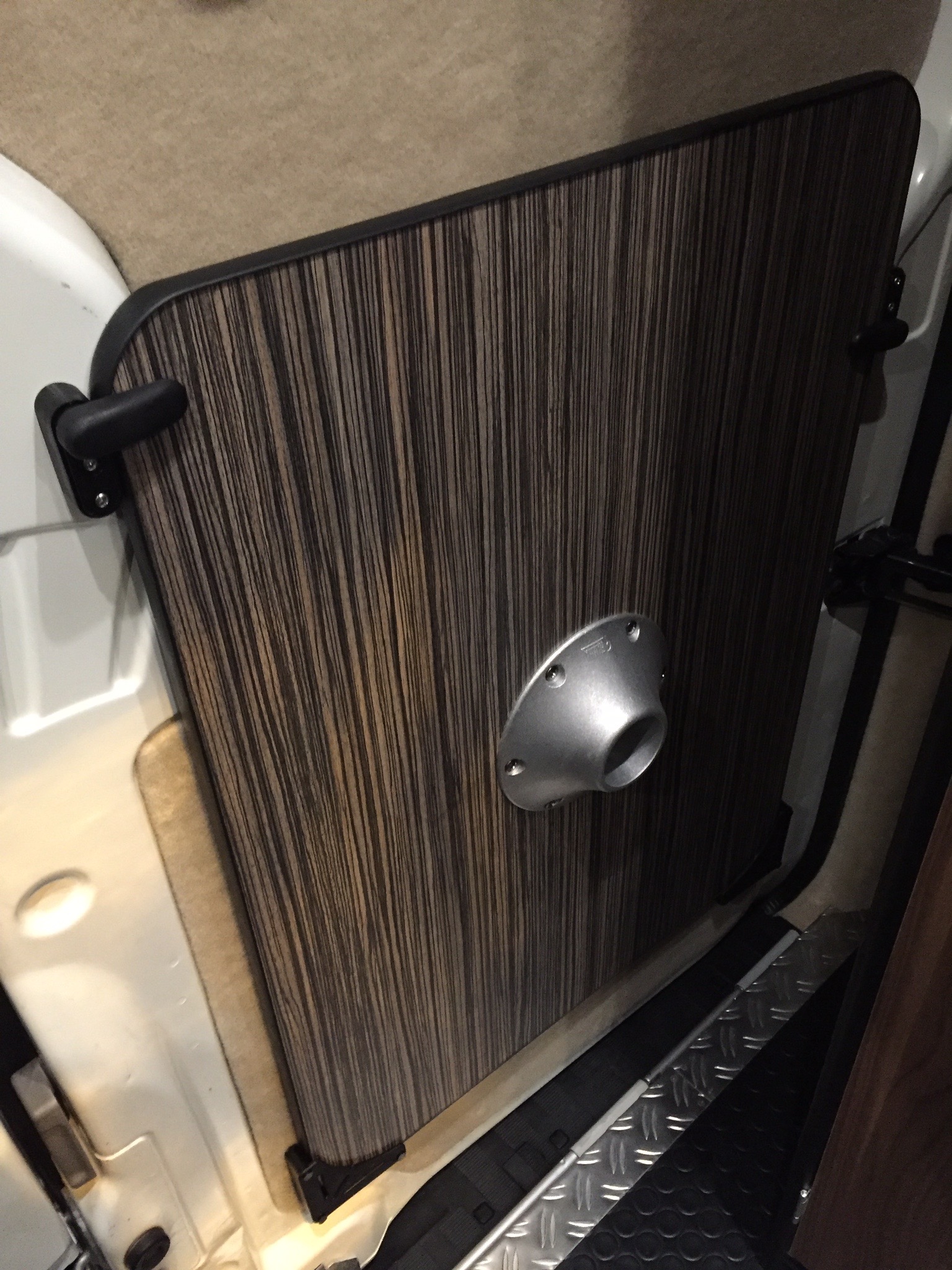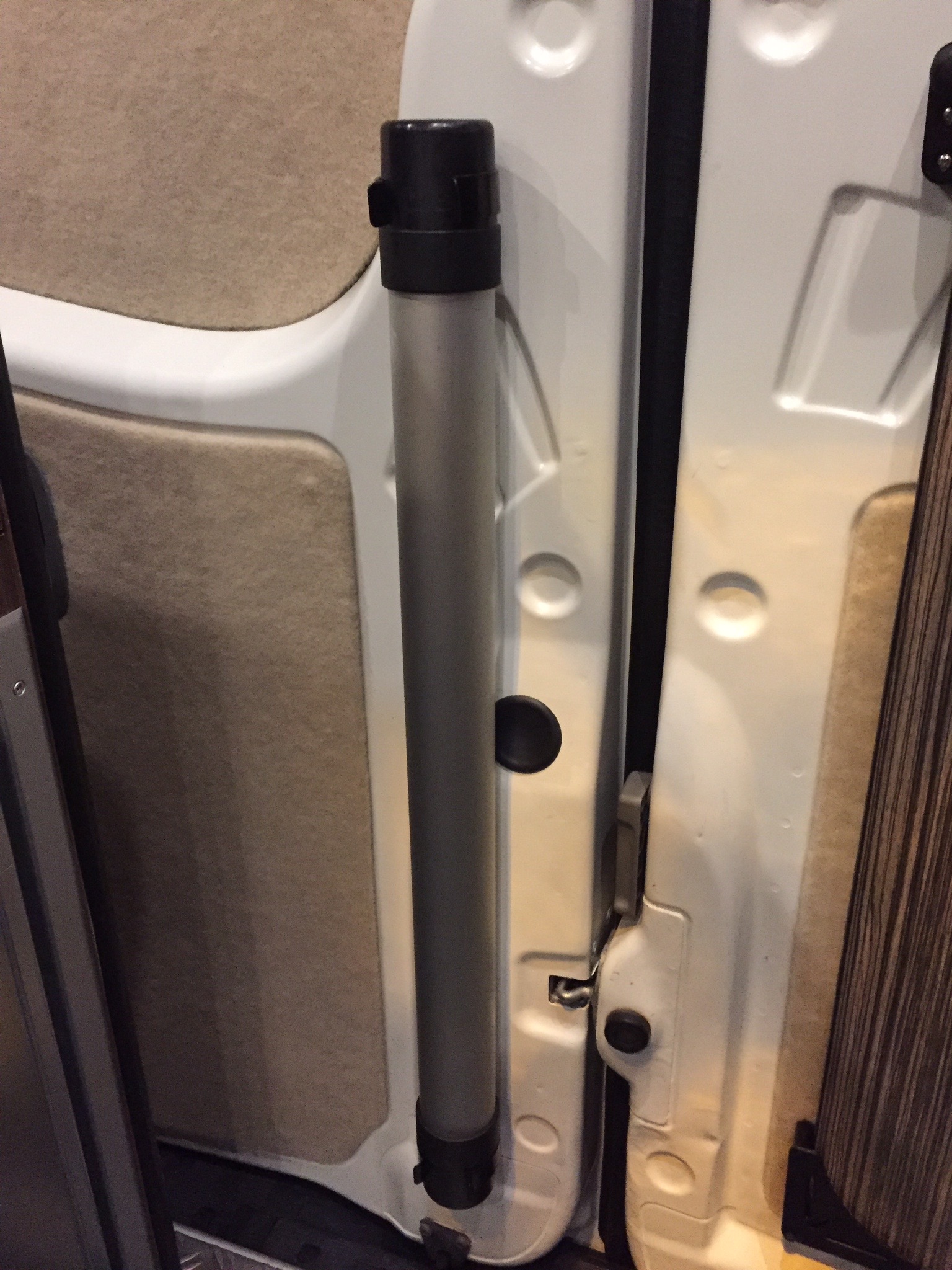 Glass Partition
We had a piece of 10mm, low iron glass manufactured to fit between the kitchen top and the bed by Glass Tops UK. It was significantly cheaper, even with shipping, compared to the price our local glass man quoted, so go figure..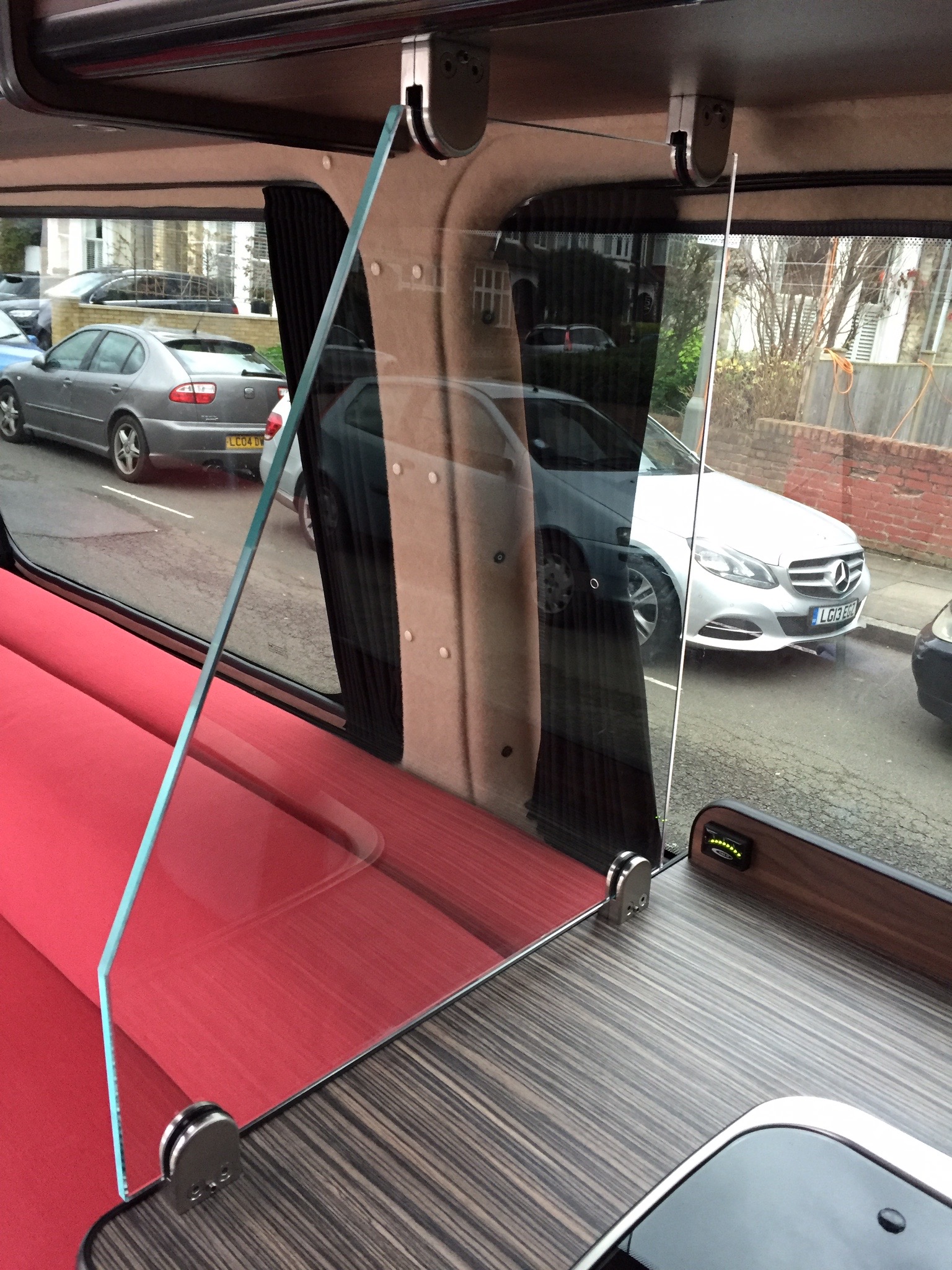 To secure it in place, I used the Stainless Steel Glass Bracket Clamp Holder Flat Round Bottom for Balustrade UK, bought on eBay.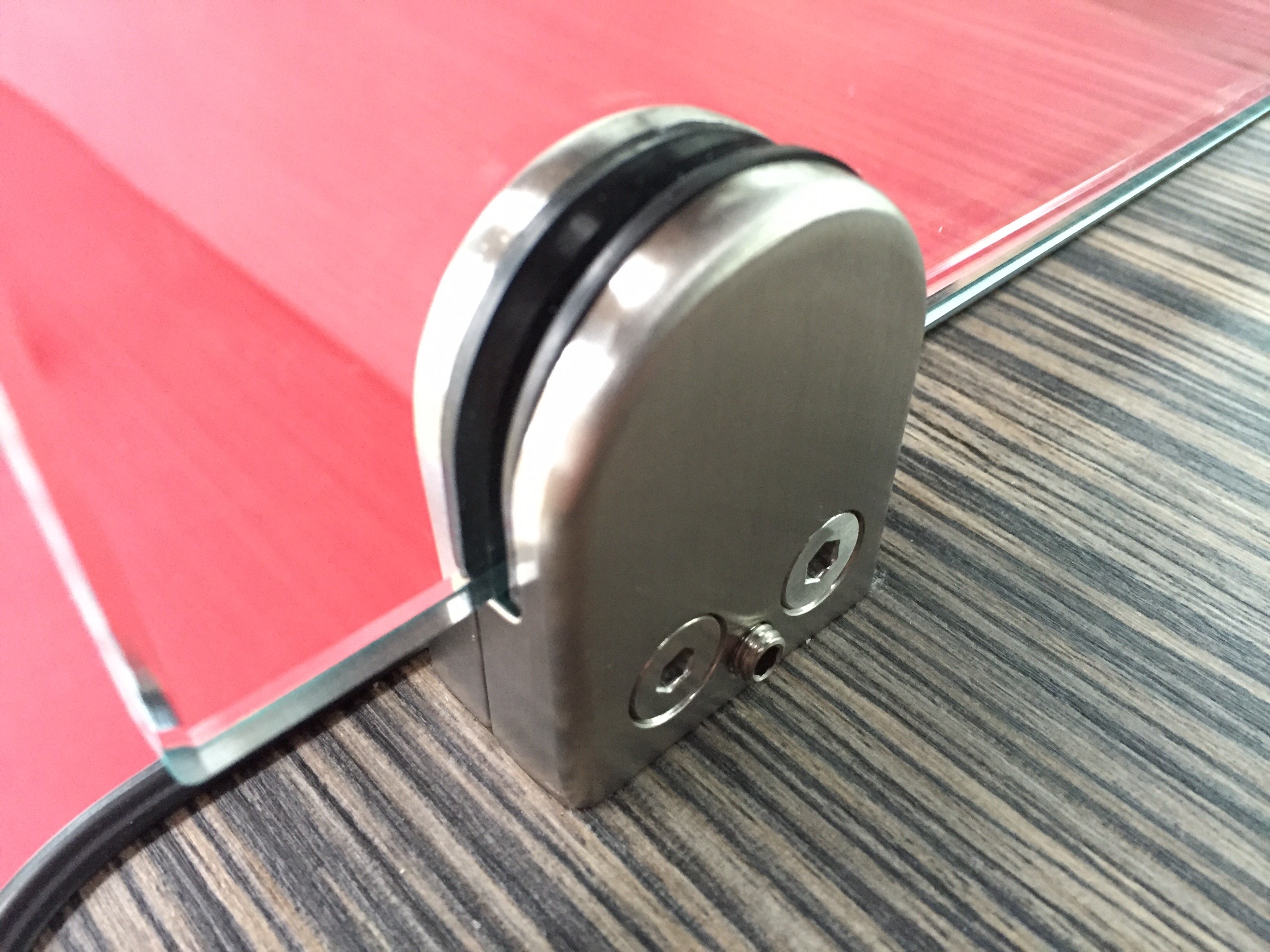 Spare Wheel Cover
My first attempt at getting a cover for the spare failed. I ordered what I thought would be a good quality product from Amazon, but it turned out to be a poorly designed and unsatisfactory.
I ended up getting a custom made cover for almost half the price of the other product from JMC.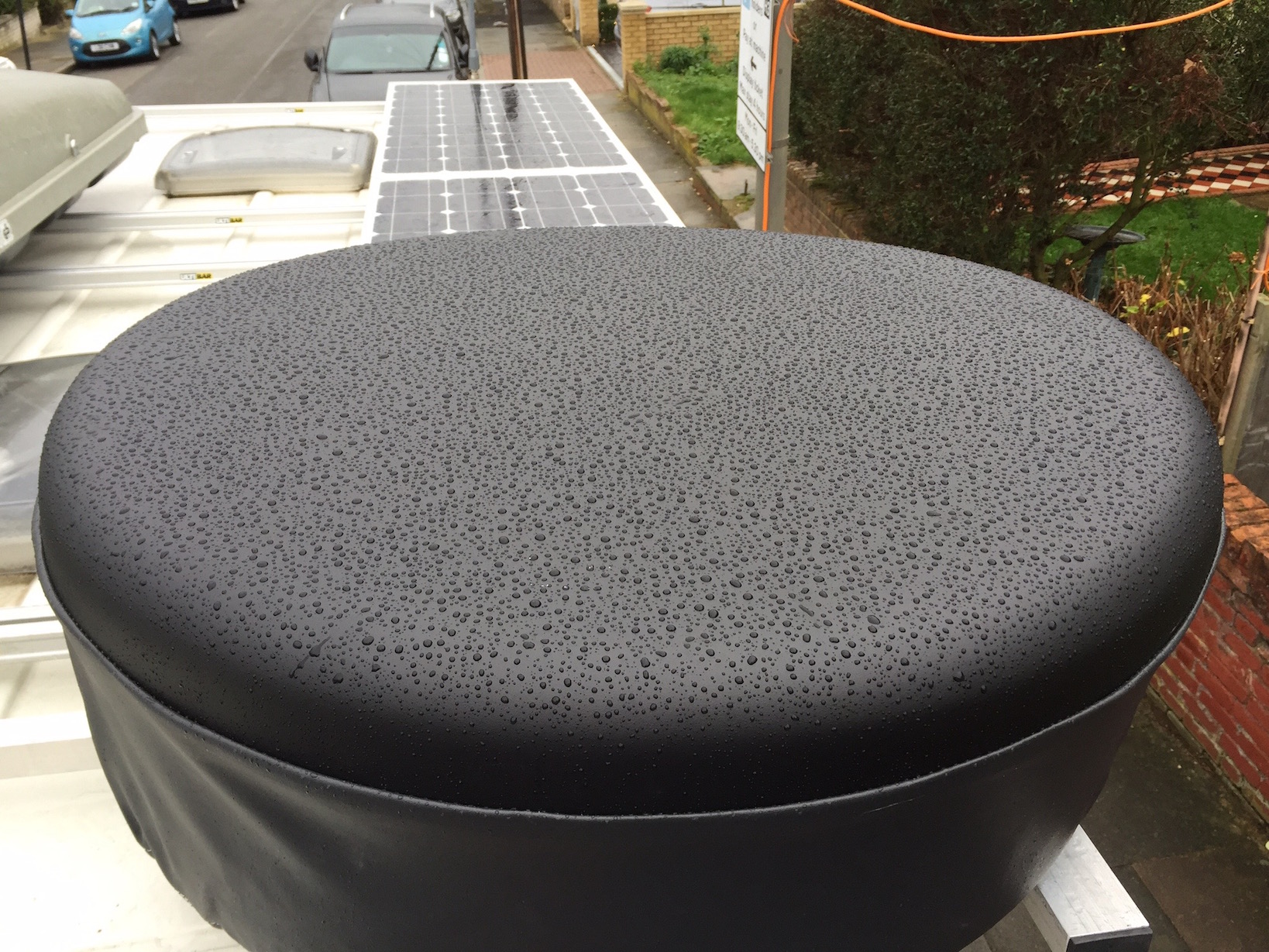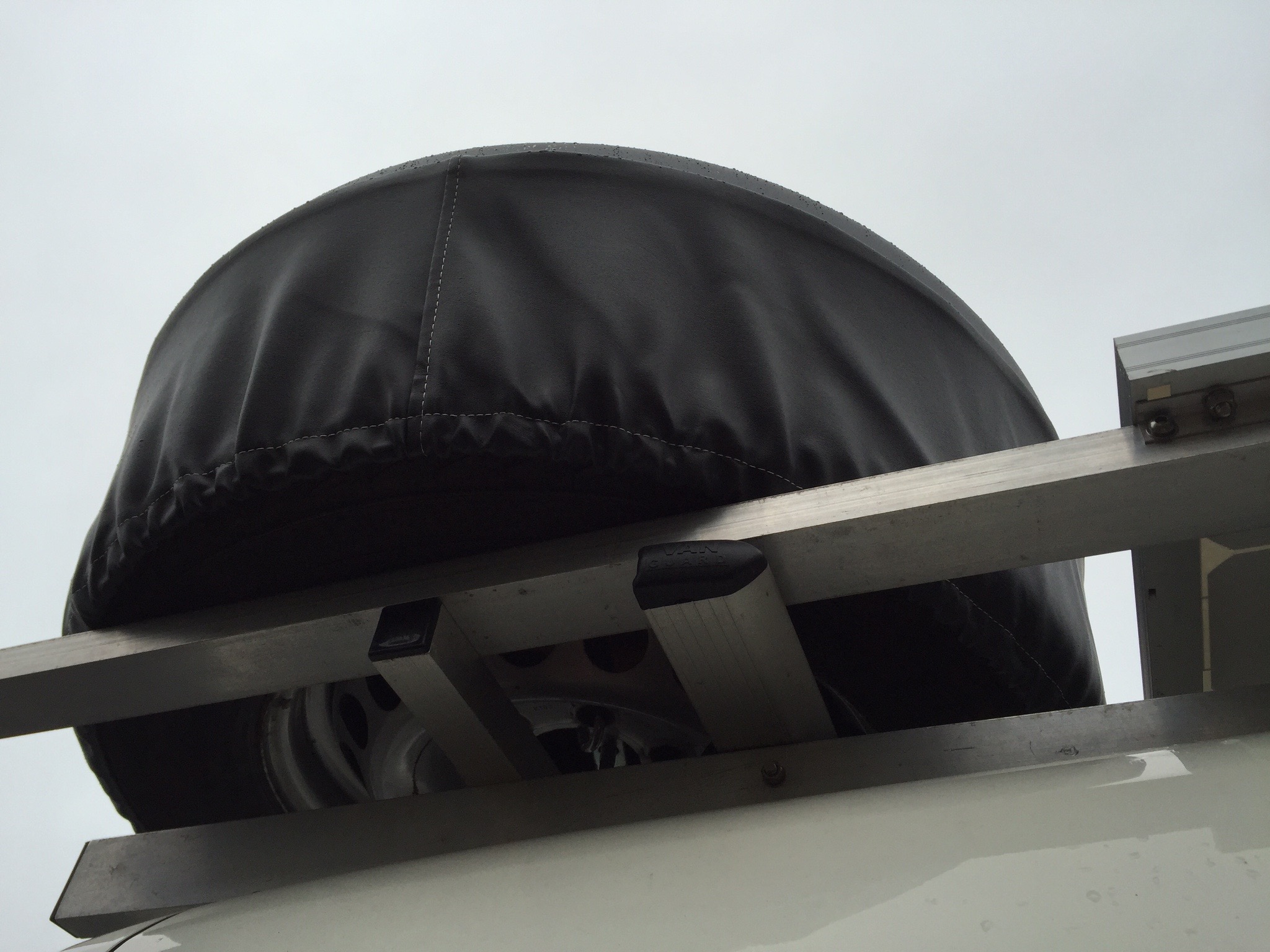 I might put a ratchet strap around it, to make sure it doesn't fly off, but apart from that it is a good fit and allows a fair bit of stuff the be kept under it in relative dryness.
UPDATE 10/2016: Somewhere between Buzet and Split in Croatia, our beloved spare wheel cover, took off, taking with it part of the satellite dish mount and the water hose reel. A simple £2 strap around the skirt would have avoided this unpleasantness. In other words, "secure your load".
Bike Rack
We have a Saris Bones 3 bike rack I bought many moons ago, which I didn't think would fit the rear door. I was wrong..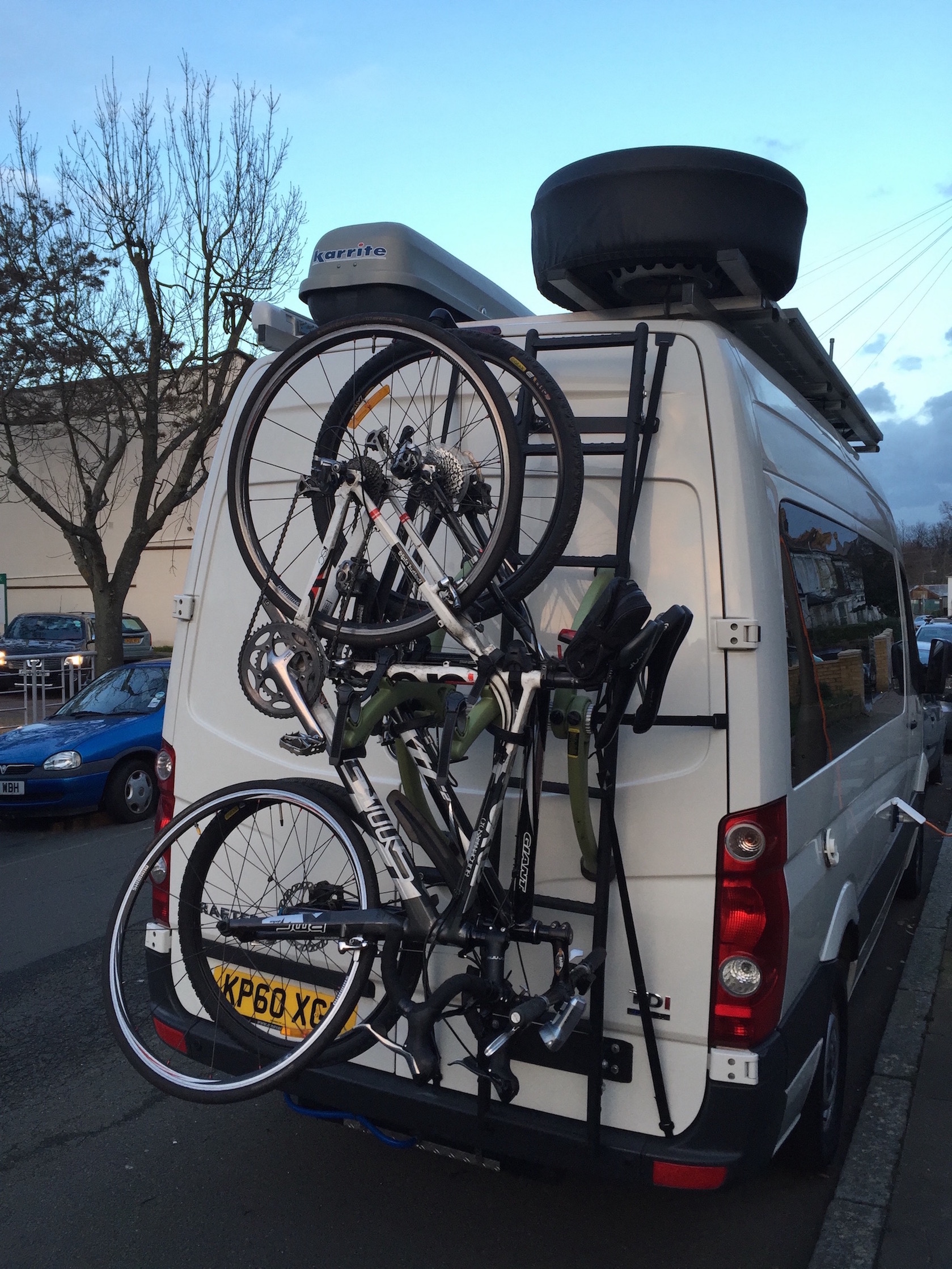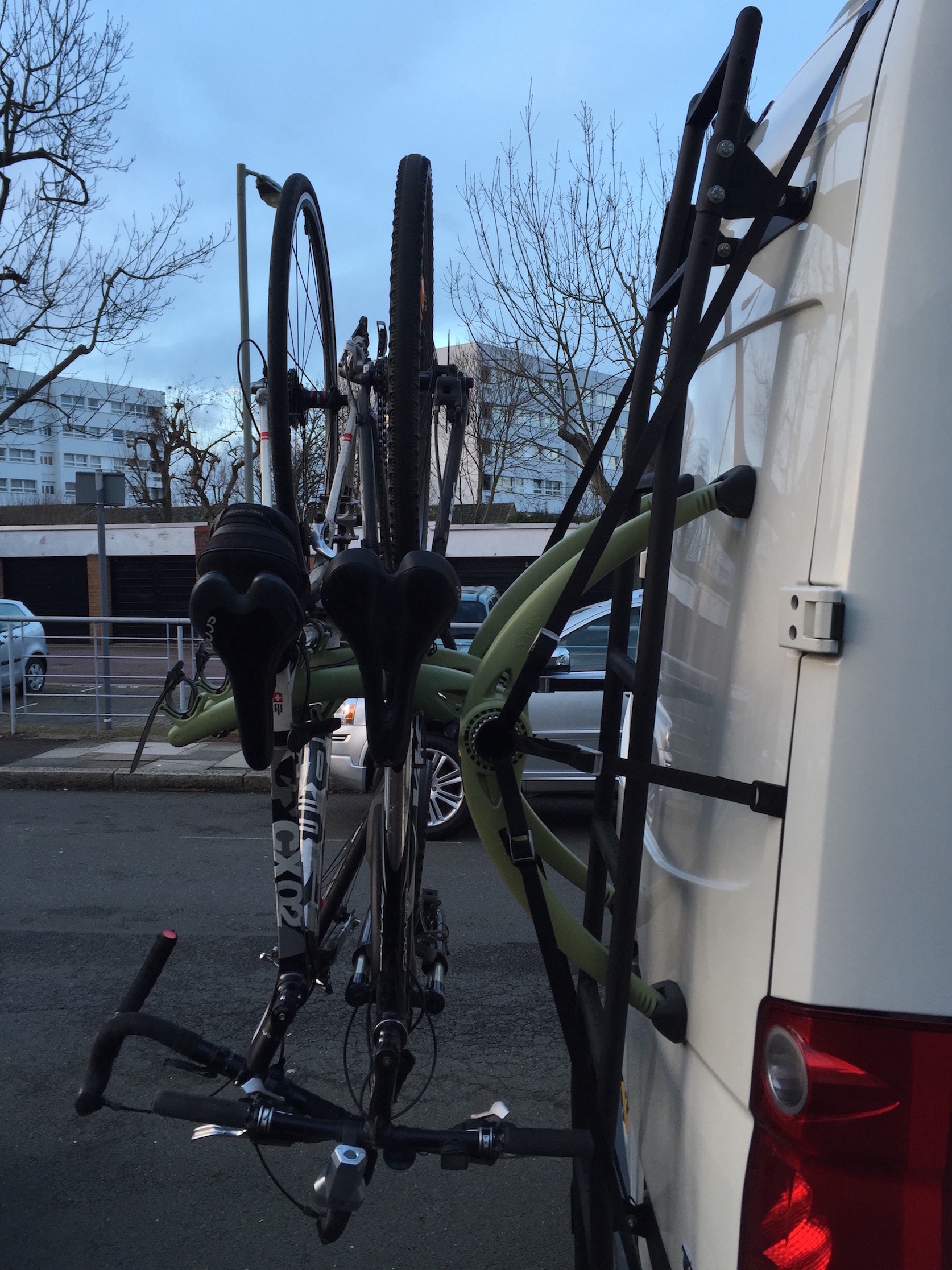 Engine and Mechanical
UPDATE 09/2016: broken down in the North of Italy with loss of power and engine in limp mode. Looks like another turbo related issue, with Turbocharger Boost Control Position Sensor Circuit error back on the ECU.
Since we bought the van, we were getting intermittent fault(s) with the engine/exhaust management system, culminating in a warning light on the dash. I confirmed the errors using a VCDS scan.
009571 - Turbocharger Boost Control Position Sensor Circuit 
               P2563 - 000 - Implausible Signal - Intermittent

008598 - Oxygen (Lambda) Sensor B1 S1 
               P2196 - 000 - Signal too High (Rich) - MIL ON

008863 - NOx Sensor 2 Bank 1 
               P229F - 000 - Implausible Signal

008871 - NOx Sensor 2 Bank 1; Heating Circuit 
               P22A7 - 000 - Implausible Signal

These would come back right after clearing the error codes and driving for a short distance, so I booked into a VW service centre, which diagnosed the problem to three things:
turbo (076145701QX)
NOx sensor and controller (03L907807AB)
lambda O2 sensor (070906262B)
The workshop quoted around £800 for the turbo, over £200 for the NOx sensor and over £100 for the O2 sensor!
After some quick research, I obtained a parts-exchange, reconditioned turbo from Nerings in Latvia for £330. I obtained the other two parts from Box-Moto in Poland for over half the quoted price. Thee were original Bosch/Continental parts, without the crazy mark-up.
The workshop replaced all the components and the errors went away. The repairs, including labour, cost under £1000, which I feel was reasonable.
Miscellaneous
I had a spare fire extinguisher hanging around, so I re-purposed it. It sits behind the driver's seat.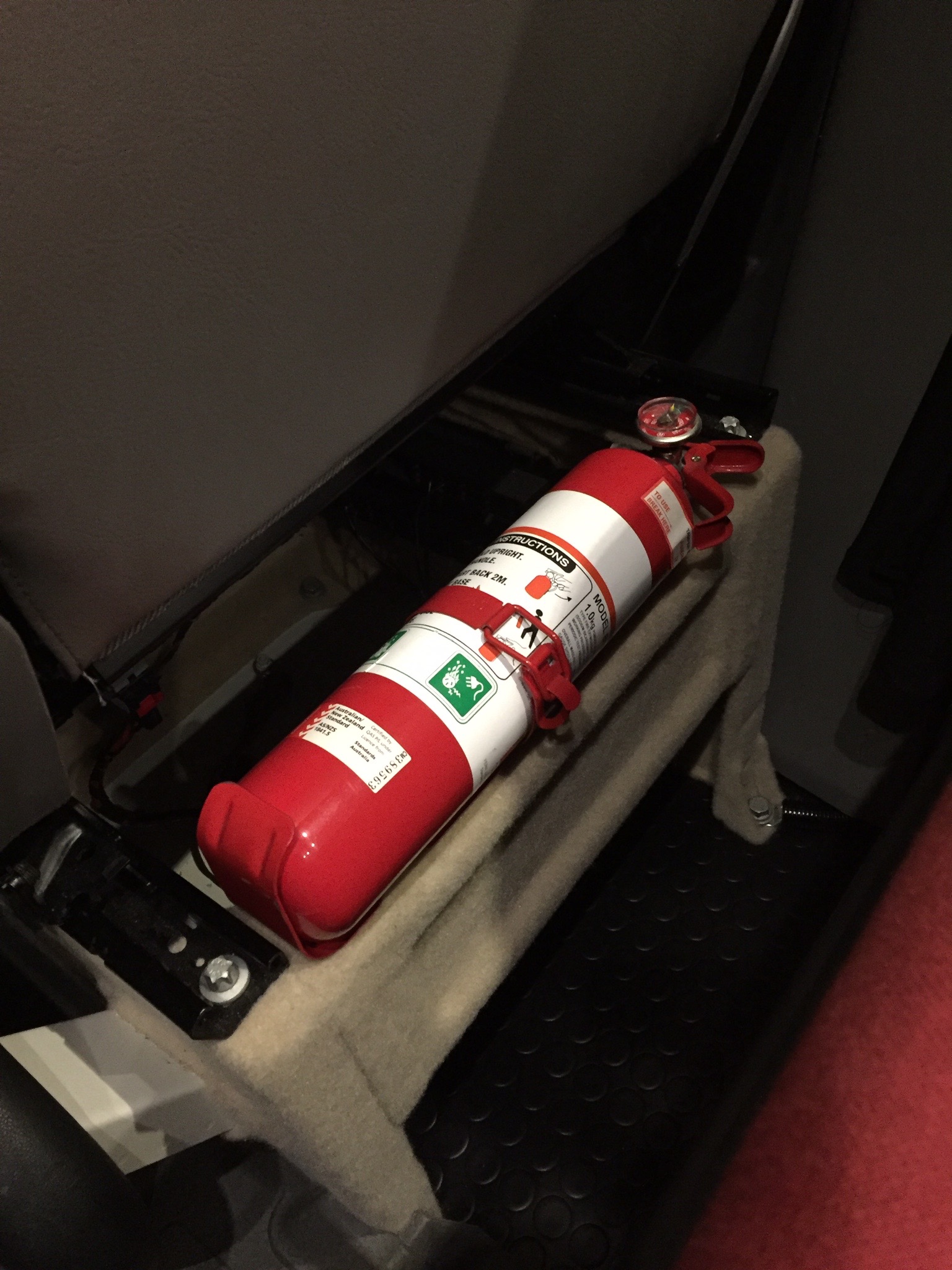 While I was down there, I installed a cover made from some thin plywood and covered on one side with left over carpet. There are some relays and a secondary fuse box under the seat, so this should hopefully stop us accidentally dropping things in there and shorting the electrics out.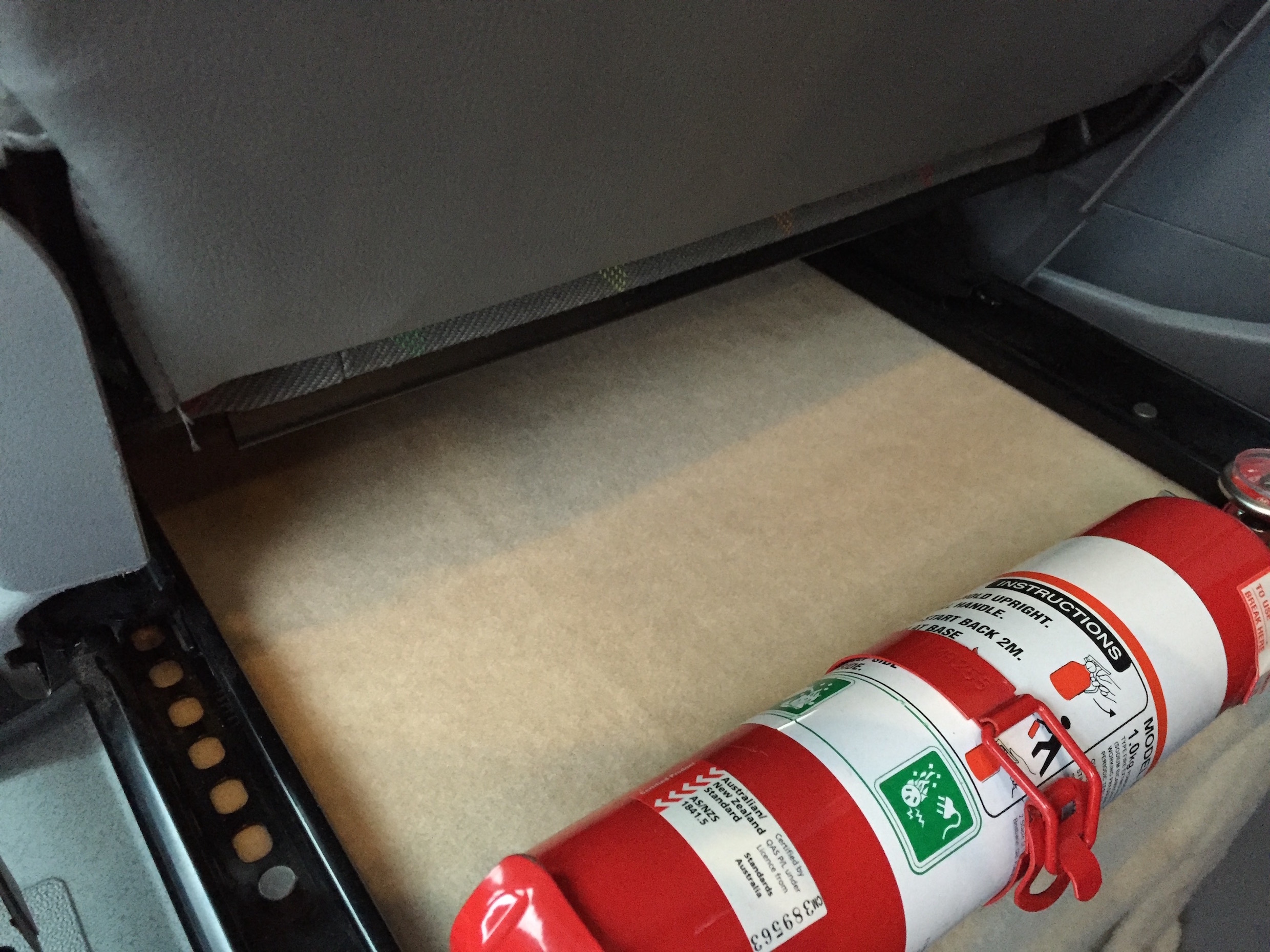 Found a cheap perspex mirror A4 tile on Amazon and fixed it with three double sided tape strips to the cabinet above the sink. It's like a "house of mirrors" in there, but whatever.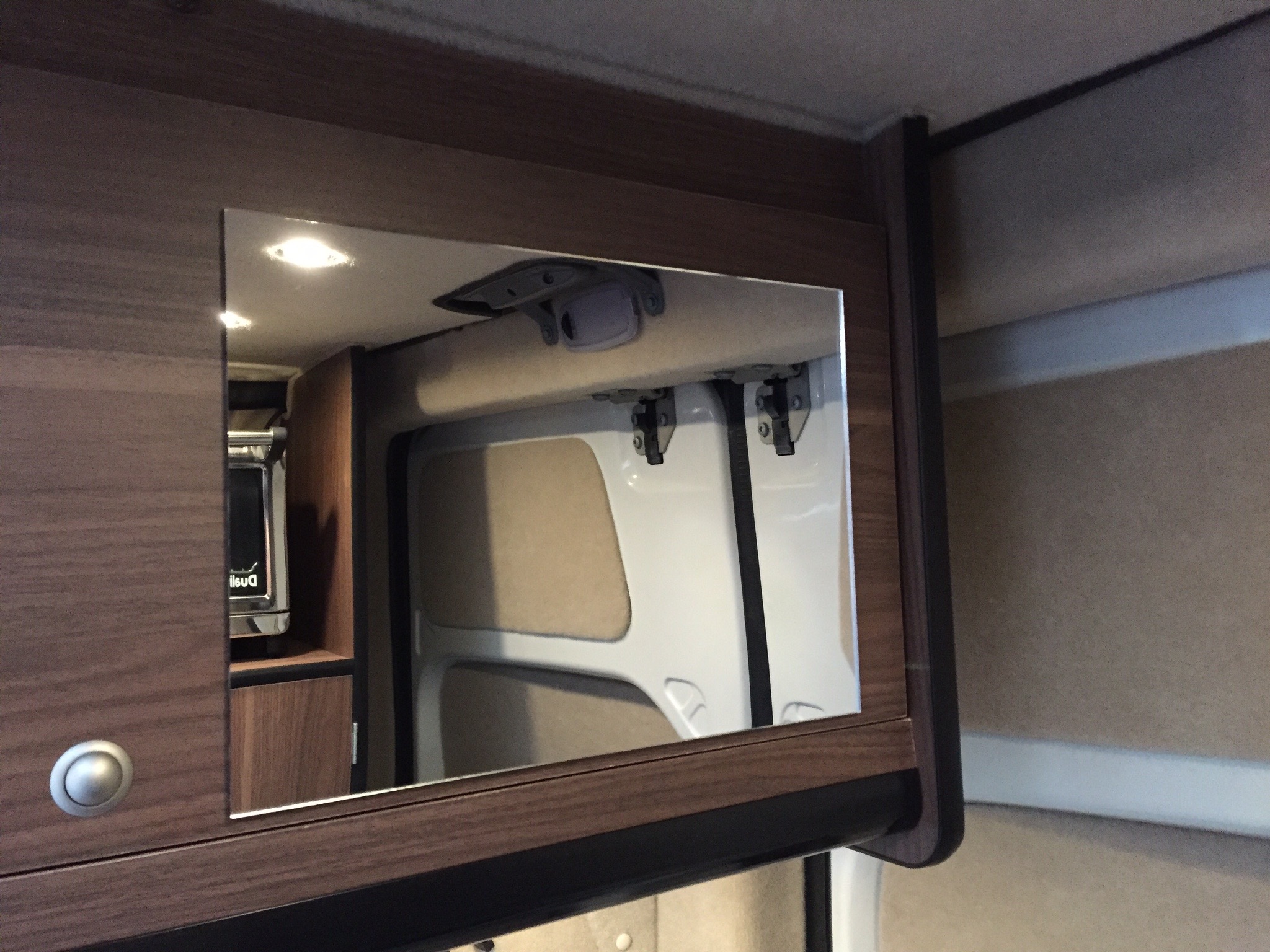 Coming Up Next
Field trials and tribulations...